De modewereld daverde op haar grondvesten toen Dior's eerste vrouwelijke creatief directeur Maria Grazia Chiuri modellen in jeans en T-shirt de runway op stuurde tijdens haar eerste show voor SS'17. Wat bleef hangen is de boodschap óp de T-shirts: "we should all be feminists", een citaat van de bekende schrijfster Chimamanda Ngozi Adichie.
Na de verkiezing van Amerikaanse President Trump in november vorig jaar en de daaropvolgende Women's March in maart, regende het ook tijdens de defilés voor AW'17 een stortvloed aan politieke en/of feministische statements. Het toppunt? De finale van Prabal Gurungs show. Alle modellen verschenen een tweede keer op de catwalk, dit keer in T-shirts met slogans als "The future is female", "I am a Malala" en "This is what a feminist looks like", op de noten van John Lennon's "Imagine". Een kippenvelmoment.
Begin vanaf 6:45
Ook voor SS'18 maakt Grazia Chiuri een feministisch statement voor Dior. Bij het defilé lag op de zitjes van de genodigden een kopie van Linda Nochlin's essay uit 1971 "Why Have There Been No Great Women Artists?" – tevens de slogan op het it-girl T-shirt van dit jaar.
Het essay stelt de terechte vraag waarom de verdiensten van vrouwen in onze maatschappij verdrongen worden door die van mannen. Door het feministische thema aan te houden, bewijst Grazia Chiuri haar loyaliteit aan de stroming. Feminisme is geen seizoensgebonden trend.
Maar omdat niet iedereen zomaar € 710 (???) heeft om op te hoesten aan een shirtje, gingen we op zoek naar waardige vervangers. Laat ons alleen hopen dat de vrouwen die de t-shirts in elkaar hebben gezet even empowered zijn als de boodschappen die erop staan…
1. Feminist
Met geborduurde roosjes, € 9,99 bij H&M Divided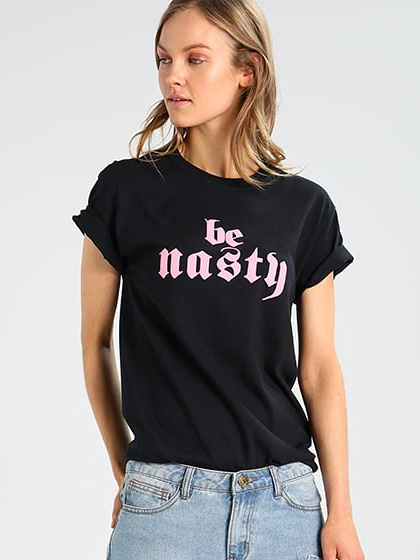 2. Be Nasty
Een eerbetoon aan Hillary, € 24,95 van The Ragged Priest, exclusief via Zalando
3. Forever Femme
Trots op je vrouwelijkheid, € 14,95 van Daisy Street Plus via Zalando
4. Femme Power
Met uitsnijding in de hals, € 19 van Pull & Bear via
Asos
5. Feminism is for everyone
Ook voor je broodje in de oven, € 14,99 bij H&M Mama
6. Females Unite
Retro in een ringer tee, € 12 bij Monki
 7. Revolution
Minimalistisch, € 19,95 van Topshop, exclusief voor Zalando
 8. Girls Bite Back
Een meer school- of office appropriate versie van de kreet This Pussy Bites Back, € 9,99 bij H&M L.O.G.G.
 9. Power To Equality
Voor de koppige equalist, € 10 bij Monki
10. Get It Girl
Sisterhood eerst, € 14,95 van New Look via Zalando
 11. Femme Tastic
Oversized in eigeel-geel, € 12,99 bij H&M L.O.G.G.
 12. GRL PWR
Met 90s Spice Girl-vibes, € 14,95 van New Look via Zalando