Weinig schoonheidsidealen zijn zo universeel als lange, volle wimpers. Overal ter wereld geven vrouwen hopen geld uit aan de nieuwste mascara's, wimperextensions, lash lifts en serums. Ieders favoriete drogist Kruidvat kwam daarom ook met zijn eigen wimperwondermiddel. Het Super Lash Serum is een betaalbaar alternatief voor het bekende en gelauwerde Revitalash, maar of het ook werkt…?
Werking
Zoals wel vaker het geval is in de cosmetica, vindt het actieve bestanddeel bimatoprost zijn oorsprong in de farmaceutica. Het product wordt al jaren gebruikt in oogdruppels om een verhoogde oogdruk binnen de perken te houden. Naast mogelijkheid tot irritatie, verdonkeren van de kleur van de iris en verkleuring van de huid, behoort ook verbeterde wimpergroei tot de bijwerkingen van bimatoprost oogdruppels.
Breng je het product echter één keer per dag spaarzaam aan op de bovenste wimperrand – in tegenstelling tot wel drie keer per dag een druppel rechtstreeks in het oog – dan zijn de risico's miniem. De grootste speler onder de wimperserums, Revitalash, elimineerde bimatoprost toch van de ingrediëntenlijst en verving het door het gepatenteerde Biopeptin Complex. Het prijskaartje? 109 euro voor 3,5 ml, voldoende voor zes maanden lang mooie wimpers.
Het Super Lash Serum van Kruidvat gebruikt wel bimatoprost. Een sacharidencocktail voorkomt echter huidirritatie en omdat bij correct gebruik het product niet in het oog komt, is de kans op bijwerkingen van de lage concentratie bimatoprost minimaal.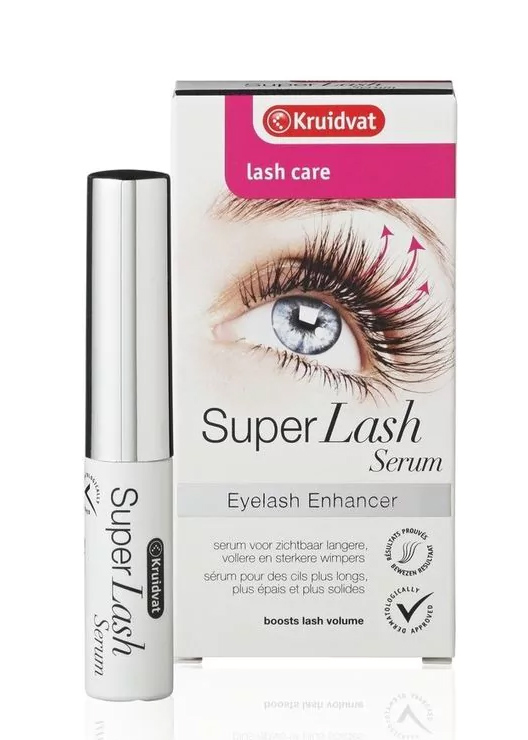 Gebruik
De tube doet denken aan een eyeliner. Met het kwastje breng je 's avonds een kleine hoeveelheid van het serum aan op je bovenste wimperrand. Het serum is waterachtig en compleet doorzichtig. De kuur duurt zestien weken, nadien gebruik je het serum nog drie à vier keer per week ter onderhoud.
Het verdict
Het serum kreeg meteen een vast plaatsje tussen mijn toner en nachtcrème, kwestie van die extra stap in mijn avondroutine niet te vergeten. Na slechts twee à drie weken consequent gebruik merk ik dat mijn wimpers zich makkelijker laten scheiden wanneer ik het mascaraborsteltje erdoor haal. Na een maand hebben mijn wimpers al een indrukwekkende lengte.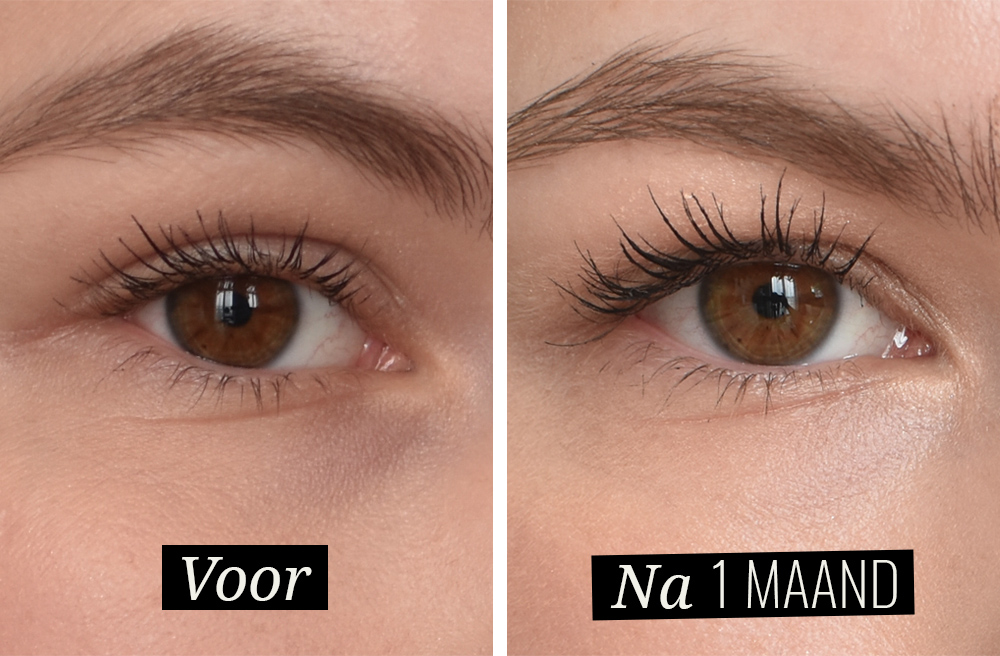 Inmiddels zijn we ruim vijf maanden verder en merk ik geen nare bijwerkingen op. Hoewel het verschil in belichting in de twee foto's anders doet geloven, zijn mijn ogen nog steeds dezelfde kleur bruin. Mijn oogleden zijn nooit rood of geïrriteerd geweest. En mijn wimpers? Die zijn langer, voller en houden de krul beter. Voor de volledigheid gebruikte ik voor beide foto's de Volume Reveal mascara van Bourjois. Het mag duidelijk zijn: het Kruidvat Super Lash Serum blijft op mijn badkamerkast staan.
Disclaimer: De auteur publiceerde dit artikel eerder al op marieclaire.be.