Even before it launched, the NYX Bare With Me Tinted Skin Veil had piqued my interest. It's affordable (more so than most drugstore launches these days) and promises a "glowing, lit-from-within no makeup makeup look". Shortly after the launch, I picked up the shade Vanilla Nude. Then I waited over a year to post this review, because ya girl's a bad blogger ?
NYX Bare With Me Tinted Skin Veil: First Impression
As we speculated, the Bare With Me collection is part of a steady rebrand for NYX Professional Makeup. Before this launch, most of their products had utilitarian names like Soft Matte Lip Cream or High Definition Setting Powder. Slowly but surely, the "Filler Instinct lip gloss", "Dazed and Diffused Blurring Lipstick" and "Can't Stop Won't Stop foundation" (??) crept into the lineup. Personally I find there's enough brands that do cheesy puns, but hey, to each their own.
The Bare With Me Tinted Skin Veil tube contains 27 ml, that's 10% less than the typical foundation size. The nozzle is very thin and makes dispensing and dosing the creamy liquid very easy. Compared to the Clinique Even Better Glow foundation, this formula is a little thicker.
In the photo below, I squeezed about a peanut-sized amount on the back of my hand and applied the product with my Beautyblender.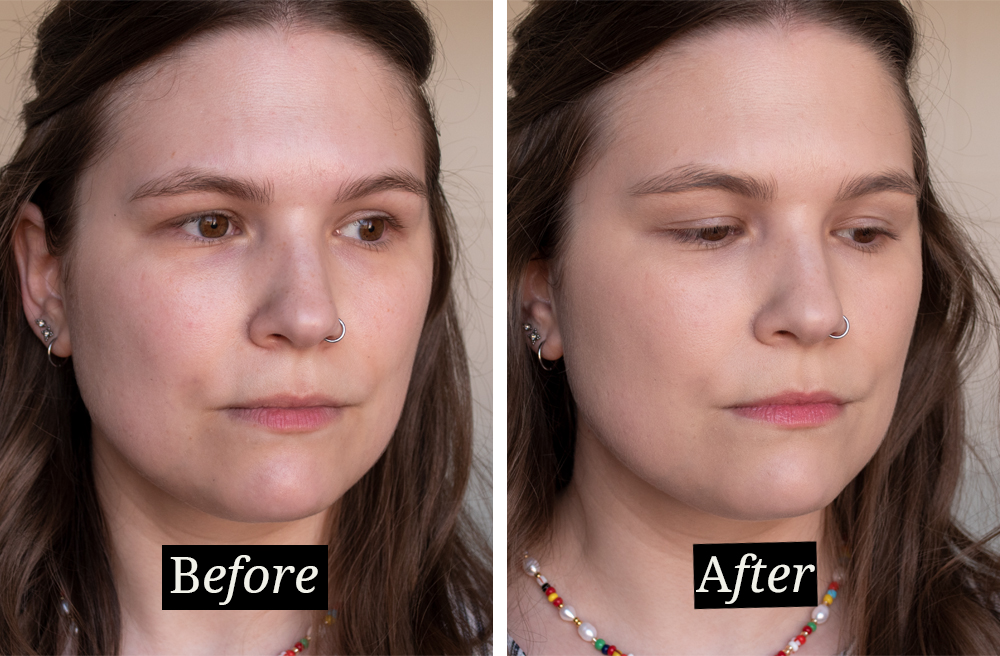 Coverage and Performance
I'd say this foundation has a good light coverage. My skin is evened out without looking that "blank canvas" effect: it looks very natural and effortless. Here's the Bare With Me Tinted Skin Veil in close-up!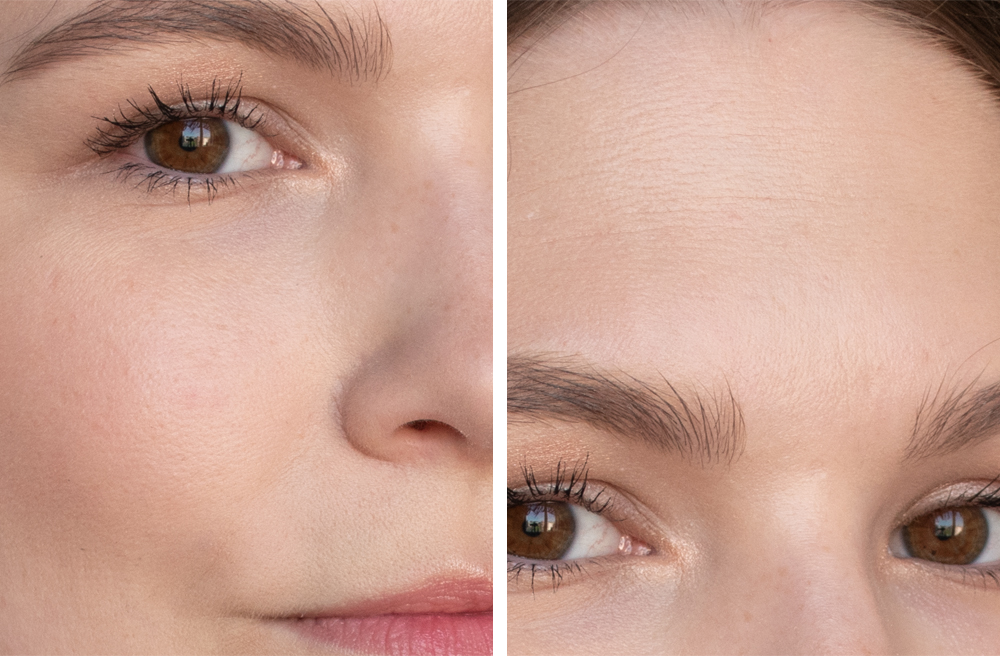 For reference, I have dry to normal skin. My favourite type of texture is a very watery foundation, like the Smashbox Camera Ready BB Water (I still dream of that one) because I feel like it doesn't cling to dry patches or peach fuzz. The Tinted Skin Veil doesn't conceal, but doesn't exacerbate either.
When freshly applied, the foundation looks quite luminous. Once dried down however, the finish turns to a natural satin. A perfect change from my mostly dewy formulas.
Because of the light coverage, the foundation wears off subtly throughout the day. I'd say after the 6 hour mark you start noticing redness poking through, but nothing that would require touch-ups. I haven't noticed any transferring and on top of that, I don't need to set it with powder. Powder blush and bronzer layer over it without skipping.
All in all, this is a very comfortable foundation that's a great combination of sheer coverage, longevity and a good price. I recommend!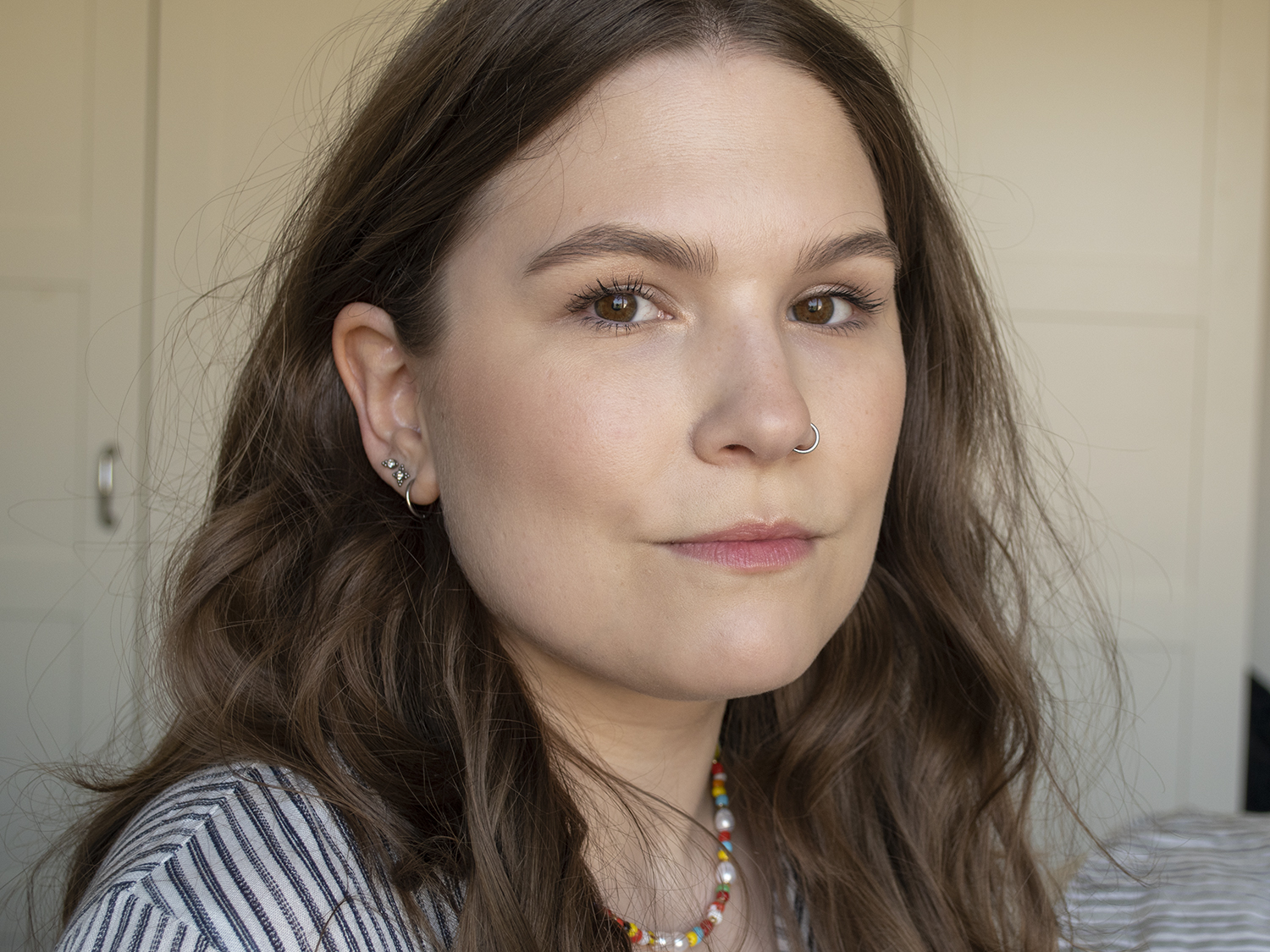 The NYX Bare With Me Tinted Skin Veil is available in 12 shades at a RRP of € 13. Shop it at Douglas (NL/BE)

for € 10,70 or Lookfantastic (EU) 

for € 11,95.
NYX Professional Makeup is owned by the L'Oréal corporation. Because L'Oréal and many of its subsidiaries are active in China, NYX is, by most standards, not considered cruelty free.