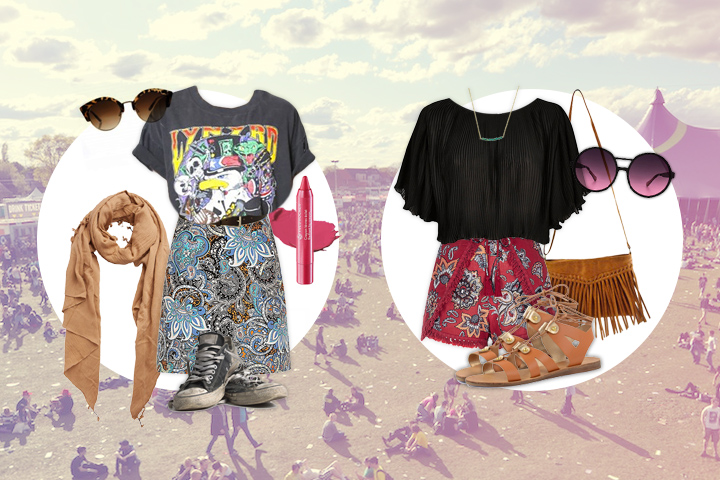 Ah, Summer festivals. I hold such dear memories to crazy times in tents with loud music and great friends. Most of them date back to a time where in Belgium, Coachella rang no bells but "it sounds like it could be a feminine hygiene product?" However since then, a lot has changed. Much to the chagrin of a lot of musical purists (the type that'll spend an entire evening arguing on Facebook about how superior their music taste is / what genre a certain band plays and how mainstream they've become), festivals are now for many people about as much about the music as the fashion and lifestyle.
Because nonchalance is my one true style goal, I can't say I'm a huge fan of the typically bohemian outfits with floral crowns, the feathers and gauzy maxi dresses. I mean, it's been done, you know? The whole concept is starting to feel like a prepackaged Halloween costume. Children say "I want to be an officer of the law!" or "I want to be a frog!" and here are a bunch of grown women saying "I want to be Vanessa Hudgens at Coachella preferably appropriating as many minority cultures as I possibly can!"
Now, I love a good challenge. Better yet, I thrive on them. Sacha asked me to show my ideal festival outfit and I was like GURL HERE'S TWO, both of them gently straying away from cliché territory.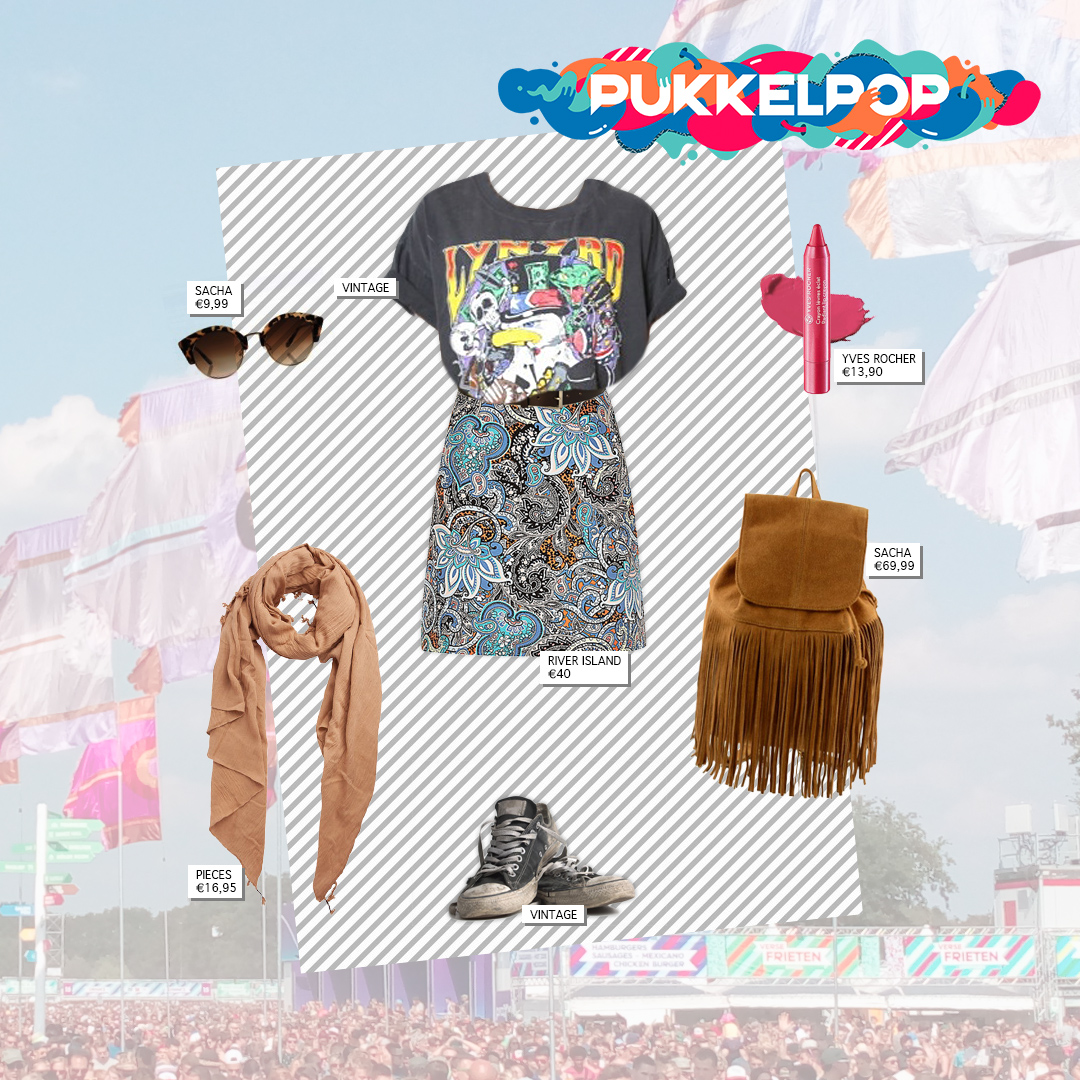 Vintage t-shirt and old Converse All Stars, Sacha bag and sunglasses, River Island skirt, Pieces scarf, Yves Rocher Glossy Lip Pen in Rose somptueux
Last time I was at Pukkelpop was in 2012, I remember seeing Every Time I Die, Cancer Bats, Refused, Enter Shikari and Nicolas Jaar (definitely the odd one out haha) and I had such a great time! If I were to go again this year and the weather would allow me to, I would definitely wear an outfit very similar to this one. I'm actually going to scour River Island's sale for this skirt because I fell in love with it when staring at it for hours, doing this collage haha. I added the scarf for functionality: It's counterintuitive to bring a scarf when it's hot but no rain and lots of activity on sandy ground means dust. A whole lot of it. But ugh, just imagine some beachy waved hair with this! Yassss.
River Island top and shorts, Sacha bag, sandals and flash tattoos, Luz via Sacha necklace, TML X Tomorrowland 'Coco' sunglasses, Caudalie Grape Water
Generally described as the greatest EDM festival in the world, Tomorrowland takes place in Boom (pronounced like bohm, not boom like the boomboomboom in most dance music haha) the town I grew up in! As a newer festival (this year's edition will be the 11th), and probably the most thematic ones out there, going wild with your outfit is not just accepted, but encouraged! I chose this top from River Island which will sway beautifully when dancing and some practical, comfortable yet not boring shorts. And, my guilty pleasure in festival fashion: Flash tattoos. Obviously no one wants to wear a ton of jewelry at a festival (and this is coming from someone who will wear all the jewels, all the time) so this is an ideal way to accessorise without compromising in comfort. The little necklace is 16k gold filled and really, I am loving the entire LUZ range! These jewels are totally up my alley.
So this wasn't an easy task, but I feel like I managed to put together two appropriate, original and practical festival outfits! Some other tips I would like to give you: Babywipes, lots of baby wipes! Don't forget your hairbrush, bring enough hairbands, bobby pins etc. Soak a towel and scrub down in the privacy of your tent instead of waiting in line for the (probably filthy) shower. Wash your hair under the running tap. Sun screen sun screen sun screen!
This Summer I will be heading to Jera On Air for a day to support my boyfriend's band and hopefully catch Frank Carter and the Rattle Snakes! Some of my best friends who I haven't seen in ages will be there so I'm crossing my fingers for nice weather and good vibes!
What are your plans for the Summer? Will you be attending any festivals? Should I include a food truck festival outfit next year? (It would just be a muumuu and slippers really haha)
Next post is going to contain something SUPER FRESH so stay tuned peeps! Enjoy your Sunday!
Disclaimer: For full disclosure, this post was written as an entry to a competition Sacha is running. I did not get monetary compensation for this post. 
Picture credits for the photos used in the background of the collages: (1) Philip for Cultuurshock.net, (2) Nico Kennes (3) TML