Happy Pandemi-versary, everyone! We're a year into a two-week lockdown and to honour the occasion, I thought it would be fun to take a look at all of the hobbies and activities I've tried to keep myself busy.
Puzzles
Time to embrace your inner 80-year old! I picked up two secondhand, 1000-piece puzzles and spent a little less than a week each trying to put them together. Along with suddenly being 80 however, comes the terrible neck and back aches from hovering over your puzzle. Though they've definitely put a temporary stop to my screen time, I don't think I'll be making this hobby a habit.
Rating: 3/10. My back hurts.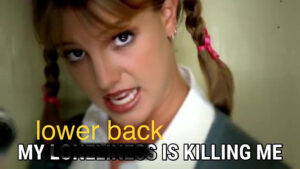 Walks in nature
I've lived in the city for 8 years now, and real green is hard to come by around here. Also I've never actually seen the point in, you know, just walking. But something about being cooped up inside for 2 months made me want to stretch my legs and breathe some air that I hadn't breathed a million times already.
I've come to realise that yes, getting some fresh air and being in nature does feel like a reset for the mind and the body. But fuck I would enjoy it so much more if the rest of the country wasn't out walking in the same few patches of nature along with me. Part of a forest's charm is the peace and quiet, and if the ratio of parks to people is about 1 to 1.000.000 like it is around here, odds are you're not going to find what you're looking for.
Rating: 5/10. Let's try this again some other time.
The Sims 4
Okay, hear me out. 100 Baby Challenge. You get one matriarch and have as many babies as you can during her lifespan, then have her last daughter become the new matriarch until you reach 100 babies. The catch? Every baby needs to have a different baby daddy (or baby mommy, because some female-presenting Sims can inseminate too). I don't know how I stumbled upon them, but I have been following Kelsey Impicciche's let's plays on Youtube since she started, 2 years ago. So one dreary day, I started my own 100 Baby Challenge. So far, I'm on my second matriarch and have had 30 babies. I also purchased the Cats & Dogs expansion pack when it was on sale for half off because, well. Cats and dogs.
Rating: 7/10. I need to be vibin' a particular way to start the game but once I start, time flies.
Painting
Few people actually know this about me, but I briefly studied Graphic Design in 2010. It was an awful experience which made me ditch any kind of visual artistic or creative expression out of pure fear of failure, until I slowly reintroduced myself to drawing and painting a few years later.
I still struggle to get started, and only draw or paint like once a year. During the Summer I was having a Not So Great Time™ so I tried to paint it out. But guys. I am shit with colour. My apprehensiveness to use colour can be seen in my house and my wardrobe. I ended up trashing everything I made that day and haven't touched a paint brush or a pencil since. I know I could just look at colour palettes, but that somehow feels like cheating. Mostly because I set expectations way too high for myself in an act of self-sabotage.
Rating: 1/10. Perhaps I should just paint something in black and white.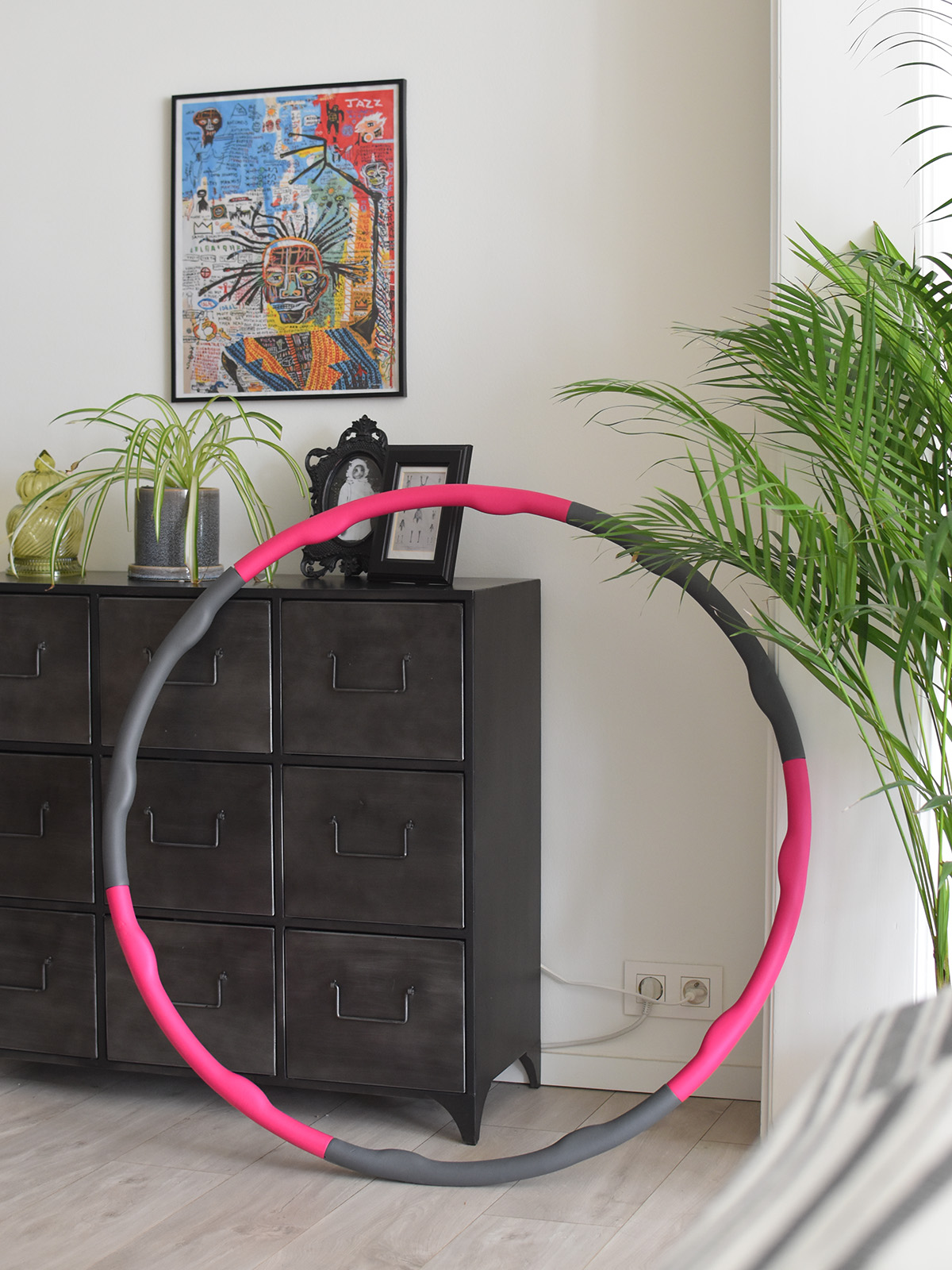 Hula hooping
So we've established already that my back hurts. A friend recommended I try a hula hoop to train my core and get some movement in. So I bought one and spent two weeks to try and keep the hoop up for 1 minute straight. Then I got bored with it because I can't seem to get past just keeping the thing from falling on the floor. You can find full workouts with a hula hoop on YouTube but as soon as I try to move any of my limbs while spinning that thing, it drops like a brick.
Rating: 4/10. It was fun while it lasted.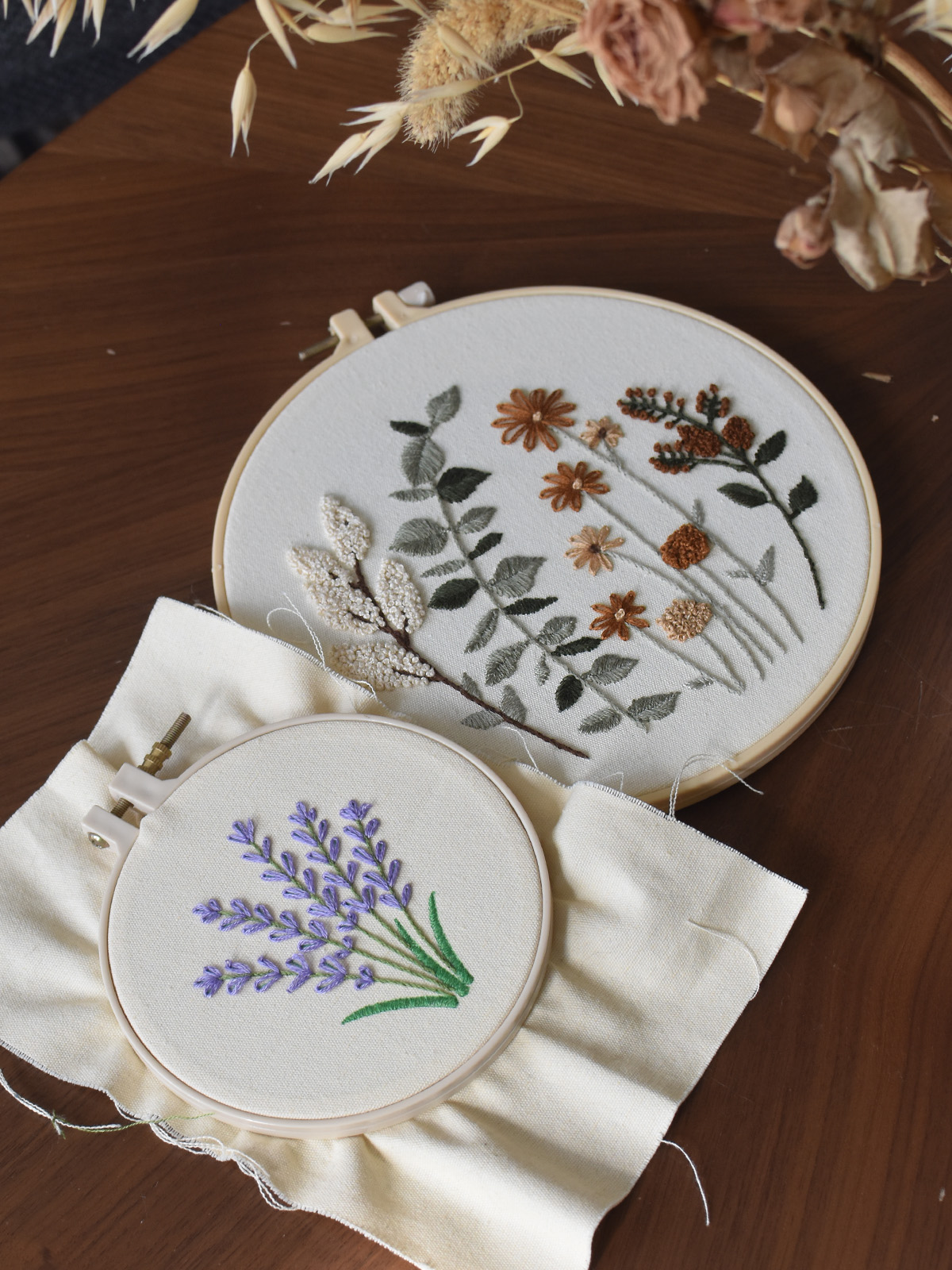 Embroidery
When looking for home decorations I stumbled upon these beautiful cushions made by Berber/Amazigh artisans. They're called sabra cushions and are made of cactus silk, traditionally dyed with botanical pigments like saffron, poppy and mint. After the dyeing process, the fabric is left out in the sun to dry, giving it that lived-in, faded look. The symbols used in the embroidery each have a specific meaning and story, some of them listed on this website I found during an intensive search for the origin of the cushions.
When I first saw the cushions on Pinterest and they were nameless to me, I figured I could learn to embroider and try my hand at it myself. Now that I know the (hi)story, I don't think I should, and would rather buy from the artisans.
It did inspire me to pick up embroidery. It was the first time I started a hobby without anticipating a result. I don't particularly like the look of an embroidery piece in its hoop on the wall. So in a way, finishing these starter kits I had bought (through AliExpress, I'm sorry) was pointless. I wasn't going to do anything with them other than enjoying the process of making them. And it was amazing.
Focusing on something mechanical allowed me to shut off my brain. It forced me to be in the here and now, instead of always going everywhere-but-here in my mind. I don't think I'll ever make anything I find worth putting on a tote bag or to display on the wall. But for the first time ever, I can see that that is neither a waste of money nor supplies. It's a pastime that's relaxing, fun and away from the screen and should be invested in.
Rating: 10/10 would recommend.
More to explore
There's a few things I'd like to get started with, but haven't had the opportunity yet because of the restrictions that are still in place, or simply because I don't have the €€€ at the moment.
Crossfit
When it comes to sports, I've always stuck to my comfort zone. I started an on-and-off thing at the gym in 2014 and finally cancelled my subscription last summer, when I realised I had already racked up about € 1700 in subscription fees, while I had only made like 90 visits. That's a whopping € 19 per visit.
So I got to thinking, perhaps I should try something outside of my comfort zone when the restrictions are lifted and gyms can reopen. The most horrible thing I could think of? Crossfit. There's the competitive element, the peer pressure and generally just people being there and me having to socially interact with them.
I'd like to give it a go, if only just to challenge my ideas of working out in a "team"-ish environment. I will need a beginner's class though cause ya girl is out of shape.
Indoor Rock Climbing
Another form of exercise waaaay out of my comfort zone. I have fear of heights and can't even stand on a table without feeling like I'm going to lose my balance.
Dit bericht bekijken op Instagram
Furniture makeovers
This is the result of watching a lot of The Sorry Girls' and Katie Scott's videos on Youtube. Most of my creative endeavours have been either digital or small scale. For example, most of the drawings I've ever done aren't bigger than the palm of my hand.
So, it makes sense to branch out to something bigger. I'd love to find a nice secondhand side table to use as a plant stand, but with the restrictions in place I'd rather not go from shop to shop to find the perfect piece and the supplies for the project.
I can't wait until we can all get our vaccines and wait, blissfully unaware, for the next pandemic. How have you been keeping busy? And also: what do you miss most about life as it was?
I really want a professionally made cocktail, man.
Until next time!