If it was December or early January I would say it's the time of year to look back on yet another year of fashion purchases. Alas it's March and I have no excuse for being this tardy so I don't have a fitting opening for this post.
Here's all the clothes I bought from April 2020 until today, March 11 2021. I may or may not have indulged in a little bit of retail therapy to soothe the lockdown blues.

AllSaints Shirley North South Tote Bag
€ 151 instead of € 380
Let's start with a big ticket item. I had been eyeing the North South tote bag for a while. AllSaints have different versions of the bag pretty much every season, so I waited for a good deal to strike. The Shirley bag has the pleated strap detail and a large tassel, two things that remind me of the brand prior to their silent makeover in 2012 under then-CEO William Kim.
I worked at AllSaints 10 years ago (y'all I'm old) and can definitely vouch for the quality of their leather goods. Come to think of it, I still have a pair of Damisi boots my cobbler complimented me on. Those shoes have seen things and I'm beginning to think they're indestructible.
Anyway, I scored this perfectly slouchy-but-structured tote bag for € 151 instead of € 380. Not a bad deal if you ask me!

H&M Linen Shirt
€ 13
I am never not on the hunt for the perfect, basic t-shirt. Though my wish list is simple: supple, natural fabric and a comfortable loose shape with fitted shoulders. I carry my weight around my stomach and have found that the stiffer 100% cotton t-shirts and lowered shoulder seams don't flatter my figure very much. Draping fabrics that fall loosely around the curves of the body don't add extra bulk where I don't like it.
I'd give it an A-. If the body was a little looser (or the shoulders of the next size up a little smaller), it would be perfect.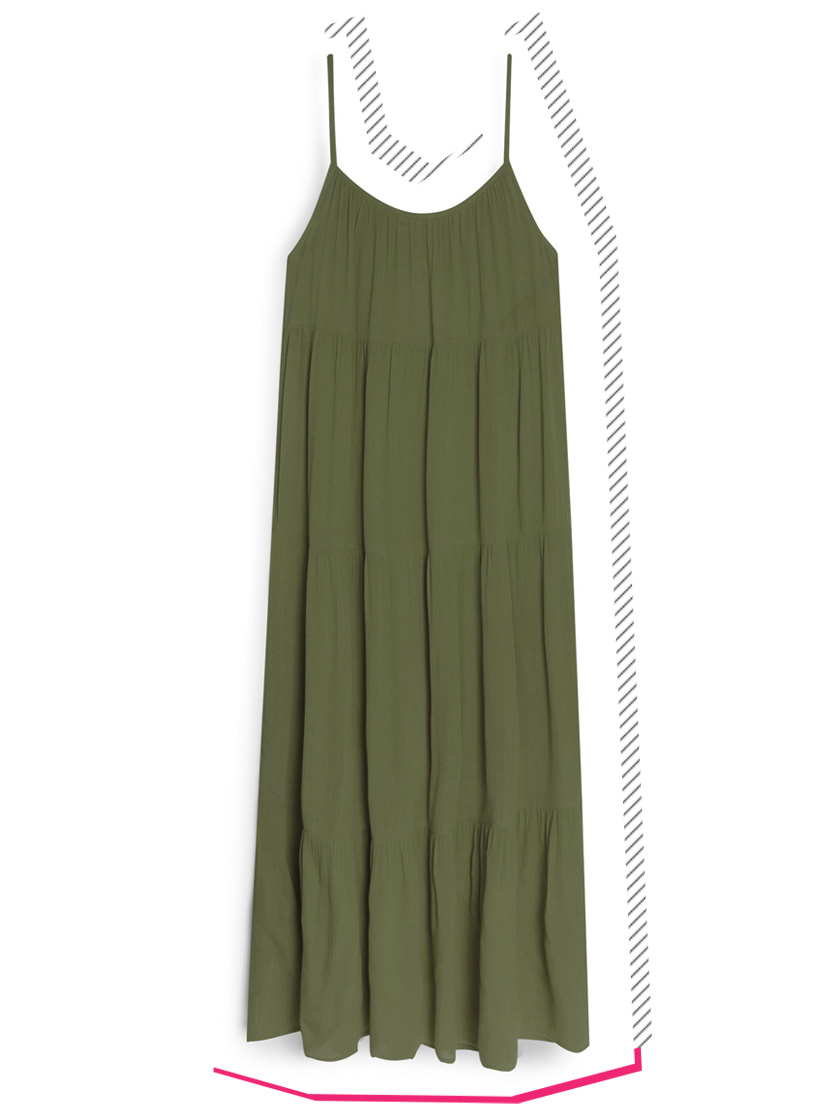 Primark Gathered Maxi Dress
€ 17
My boyfriend and I were lucky enough to be able to go on a holiday in July, inbetween lockdowns. Looking back on it, it was crazy but back then, we really thought we'd had the worst of it. Lol.
Anyway, on my first day there I usually realise I didn't bring any beach-appropriate clothes I don't mind spilling sunscreen on. This time I came prepared, with this gauzy viscose dress. I wouldn't mind getting a second beach dress (cause this one was filthy by the end of the week) if we ever get to go on holiday again.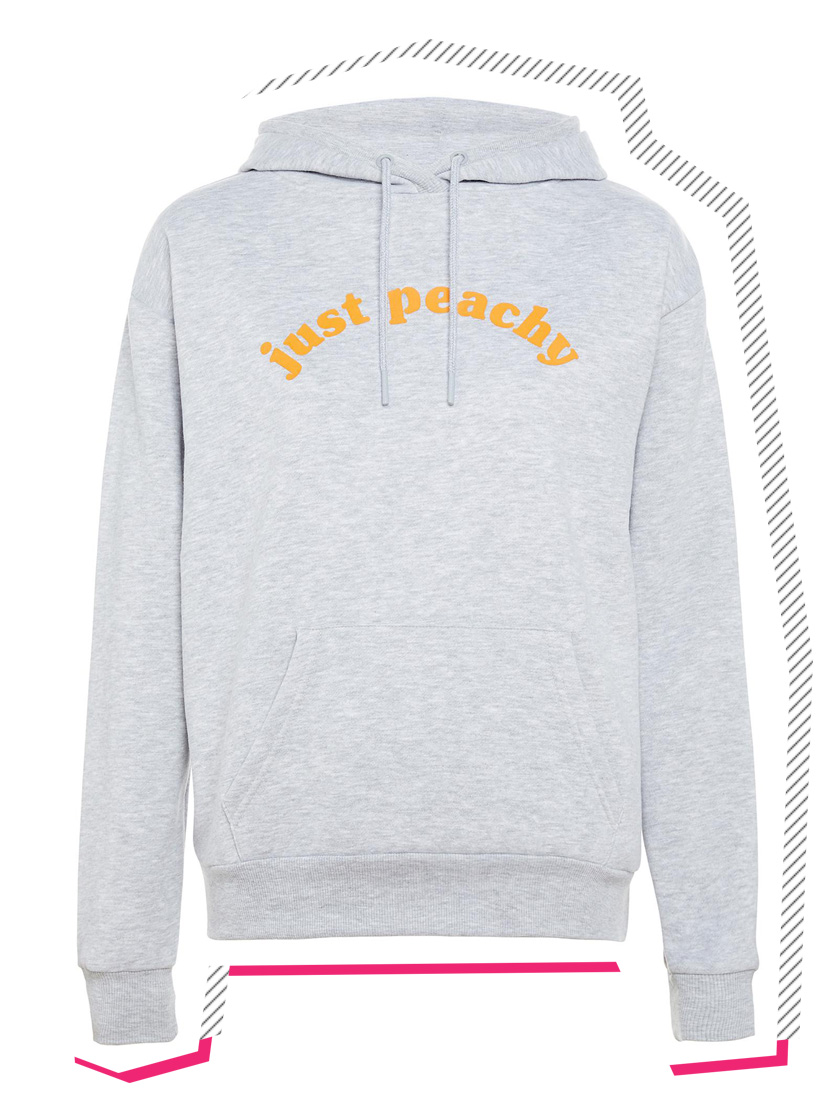 Primark Just Peachy Hoodie
€ 8
If my personality was a hoodie, this would be it. Nice on the surface, but perhaps very sarcastic instead. It was an impulse buy, but I still enjoy it every time I wear it (and I wear it a lot because pandemic).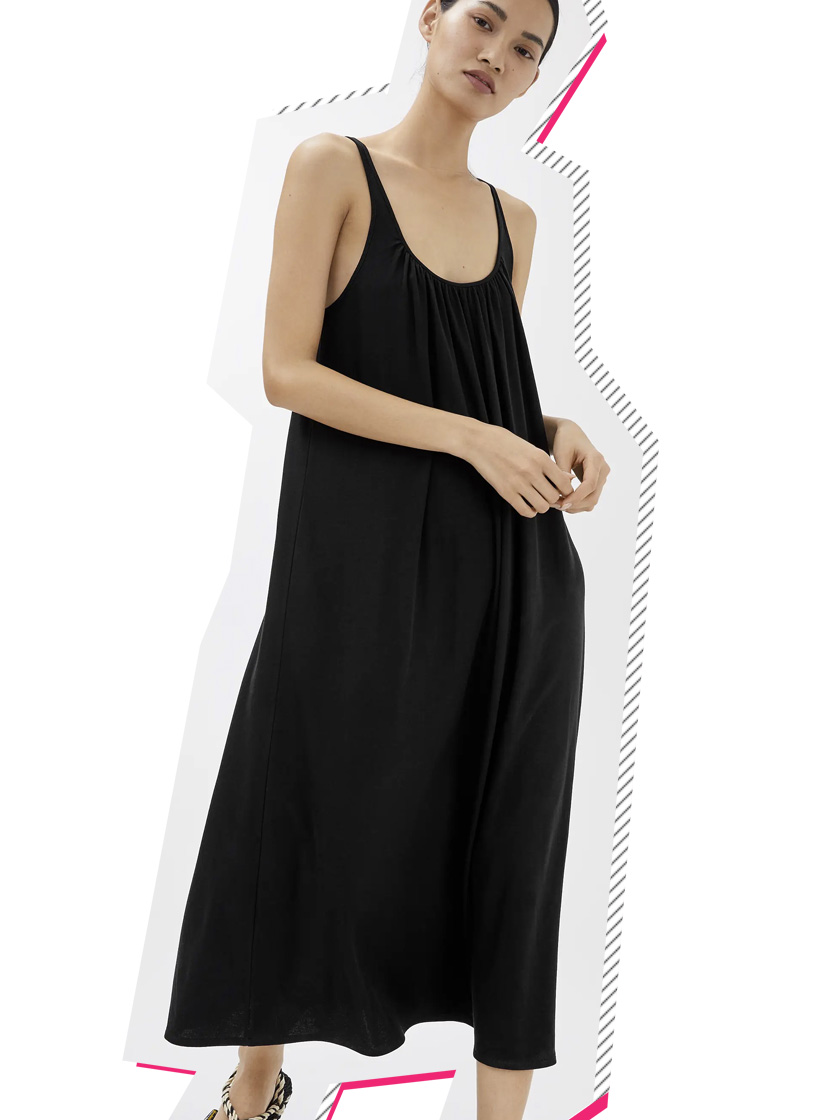 Arket Jersey Gathered Dress
€ 35 instead of € 69
Ordering this dress was a bit of a gamble, because I usually hate gathering at the bust. When I tried it on however, I was sold. The draping! The heavy cotton! The low-cut back you can't see in the picture but I assure you is really there! I had to take in the sides a little bit to minimise the risk of exposing myself (reduced the risk from about 1/3 to 1/7) but I love wearing this when it's sweltering hot outside.
(Yeah I'm one of those idiots wearing black during a heatwave.)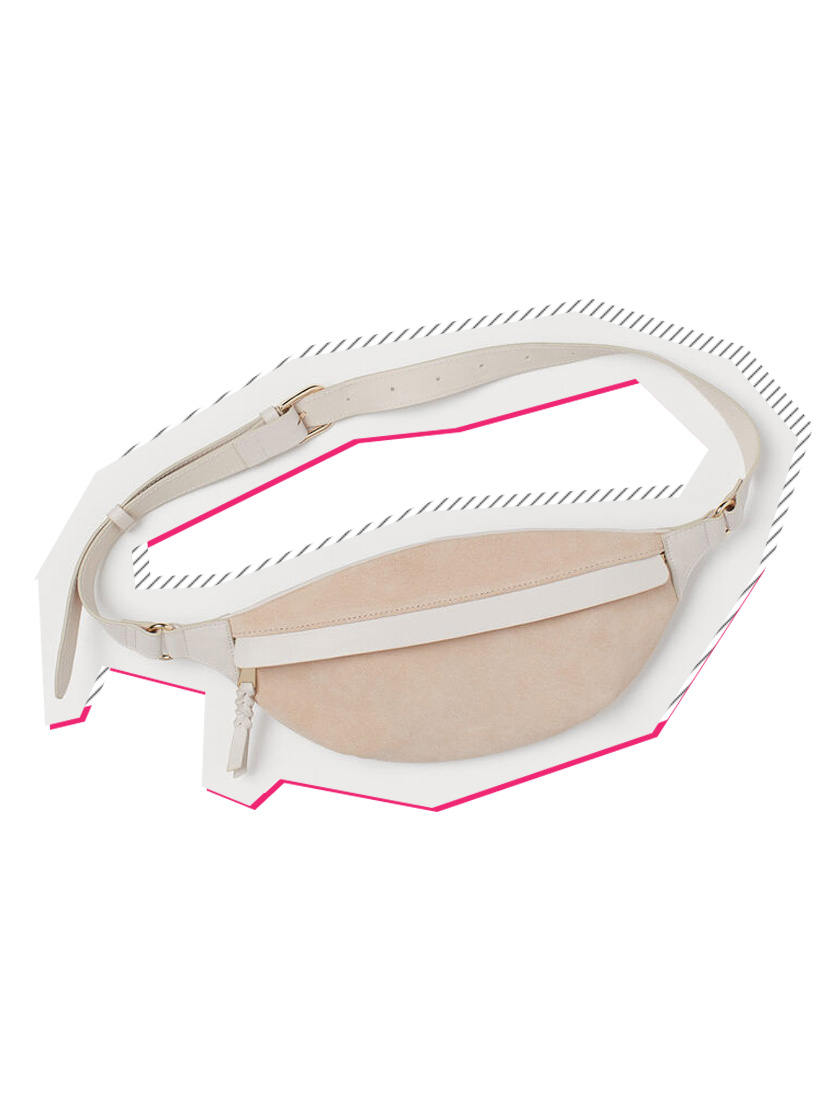 H&M Suede Detail Pouch
€ 8,99 instead of € 27,99
Because of the mix of materials, this pouch has a bit of an athleisure vibe I've come to like during our time at home. The shape of it is less bulky than my other beige pouch, making it a little handier to carry around. Both have been staples in my spring/summer outfits. The suede has unfortunately discoloured a bit because I wore it with my black leather jacket though. I'm a little pissed at myself for not treating the suede before using the bag.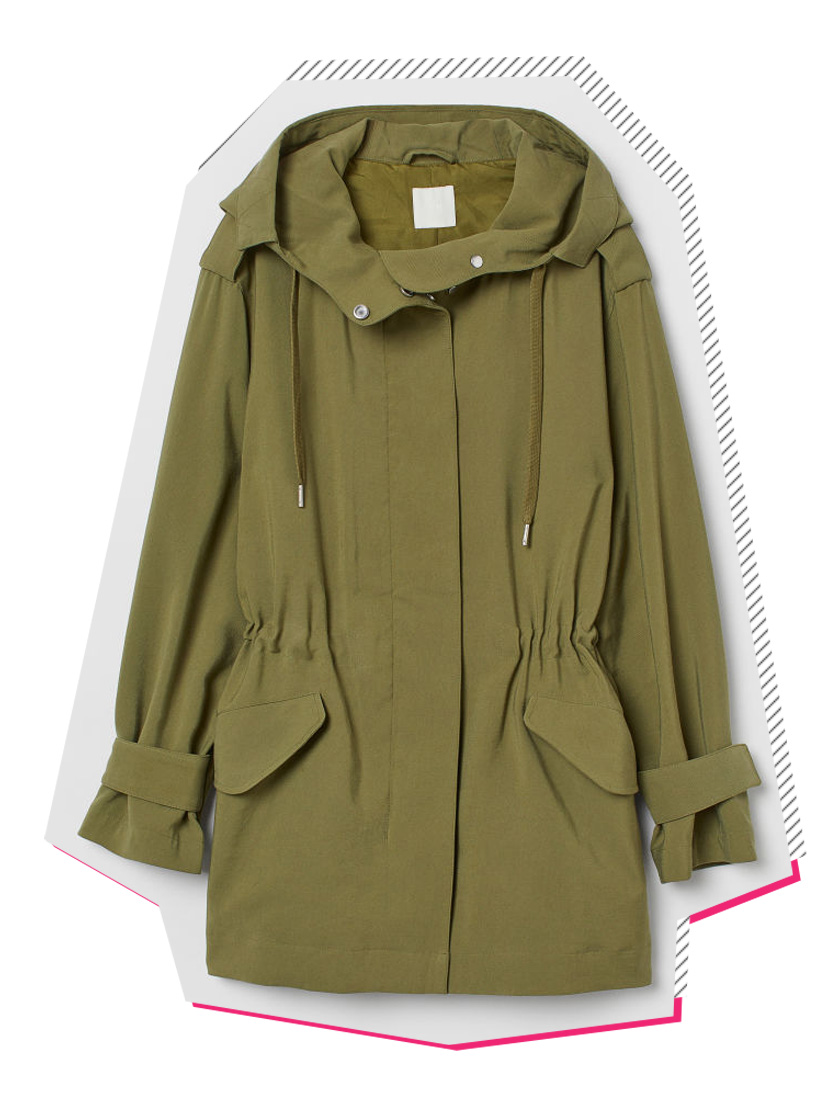 H&M Hooded Parka
€ 45
You have no idea how long a light parka with a hood has been on my wish list. I have a parka for winter, it has a big teddy-lined hood that I love when it's freezing outside but just looks a bit silly on a rainy summer day.
Enter this jacket! I expect to wear it for years to come as it's such a staple if you live in a rather dreary country like Belgium.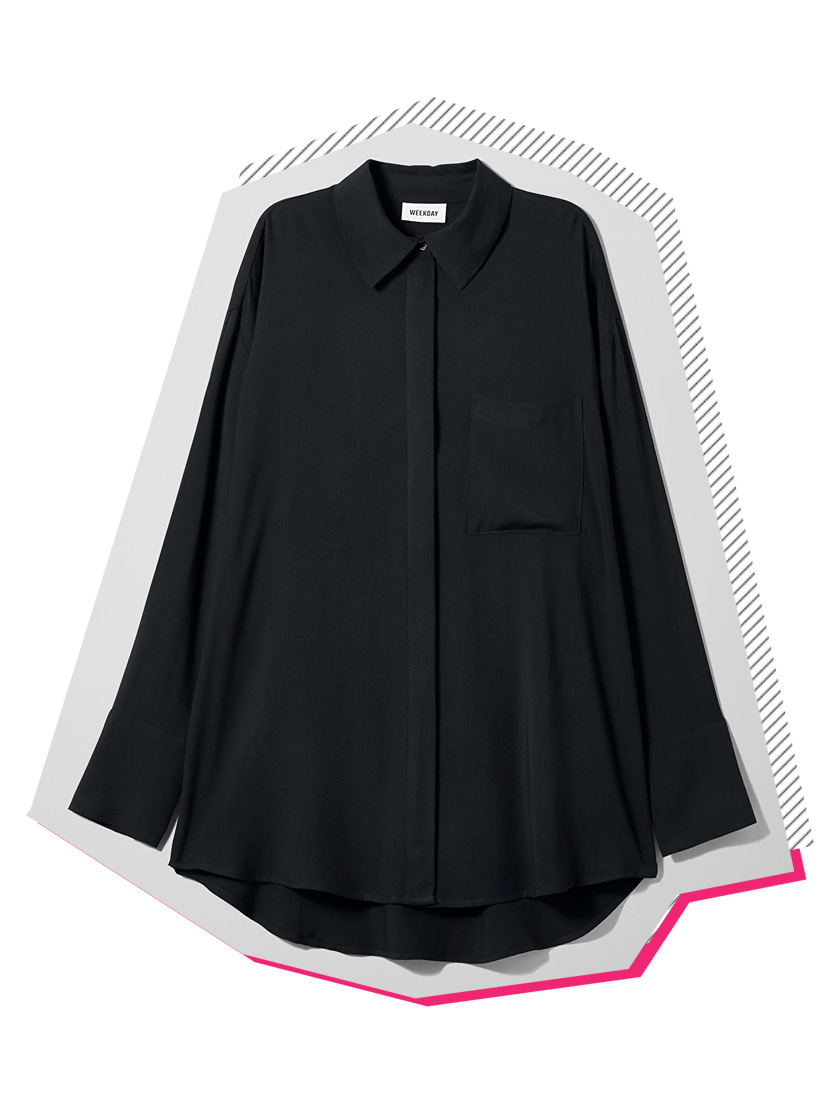 Weekday Free Shirt
€ 35
2020 has been the year of shirts for me. Lord knows why seeing as I have had 0 reasons to look smarter than a regular old t-shirt and jeans combo. I got this in a size small even though I usually wear a medium, sometimes a large. I'm hoping to get more wear out of it once this whole pandemic business clears up.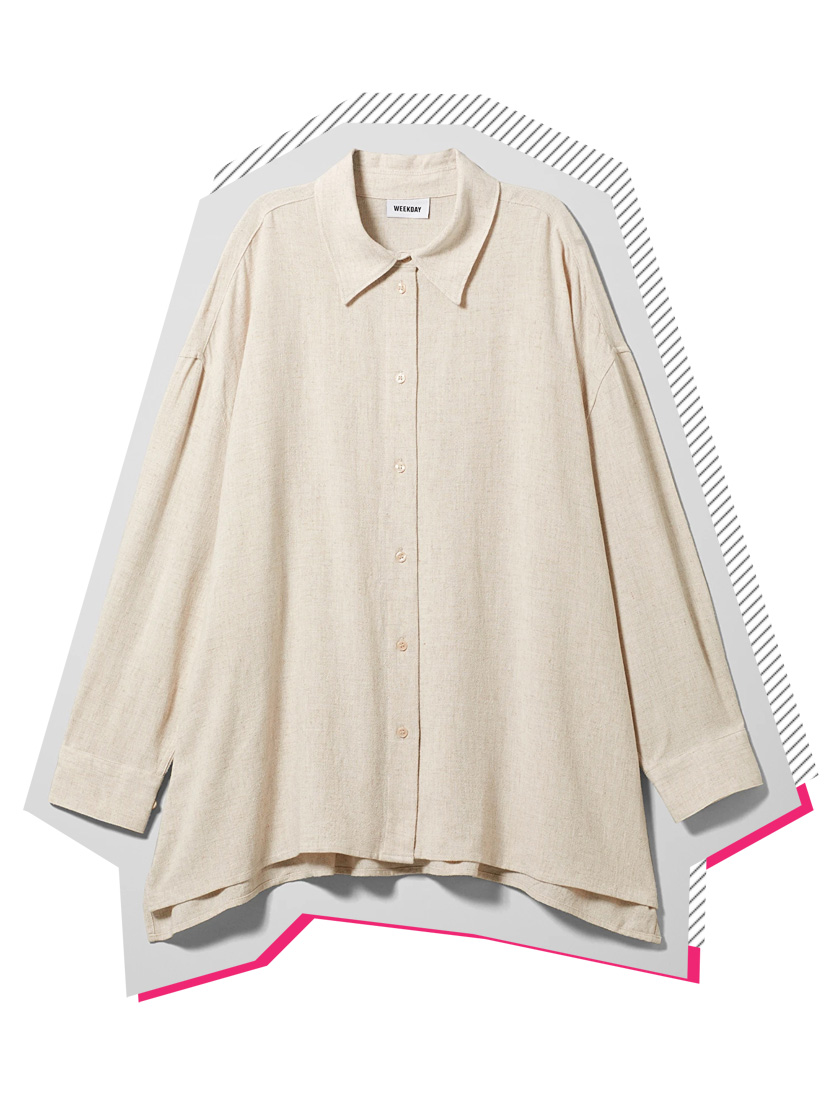 Weekday Jan Linen Mix Shirt
€ 45
I hate that beige washes me out. Like I'll wear this on a call in front of a white background and I'll blend in. It's my camouflage.
Even though I need to slap on extra makeup when I wear this linen/viscose blend, I love the way it fits. Ya girl just needs a tan.
Also, Weekday has matching pants now. I am tempted to try them because an all-beige outfit like that would be the perfect cover-up to wear during long-ish sun exposure. On a holiday. Which we might not ever experience ever again.
Just pandemic things.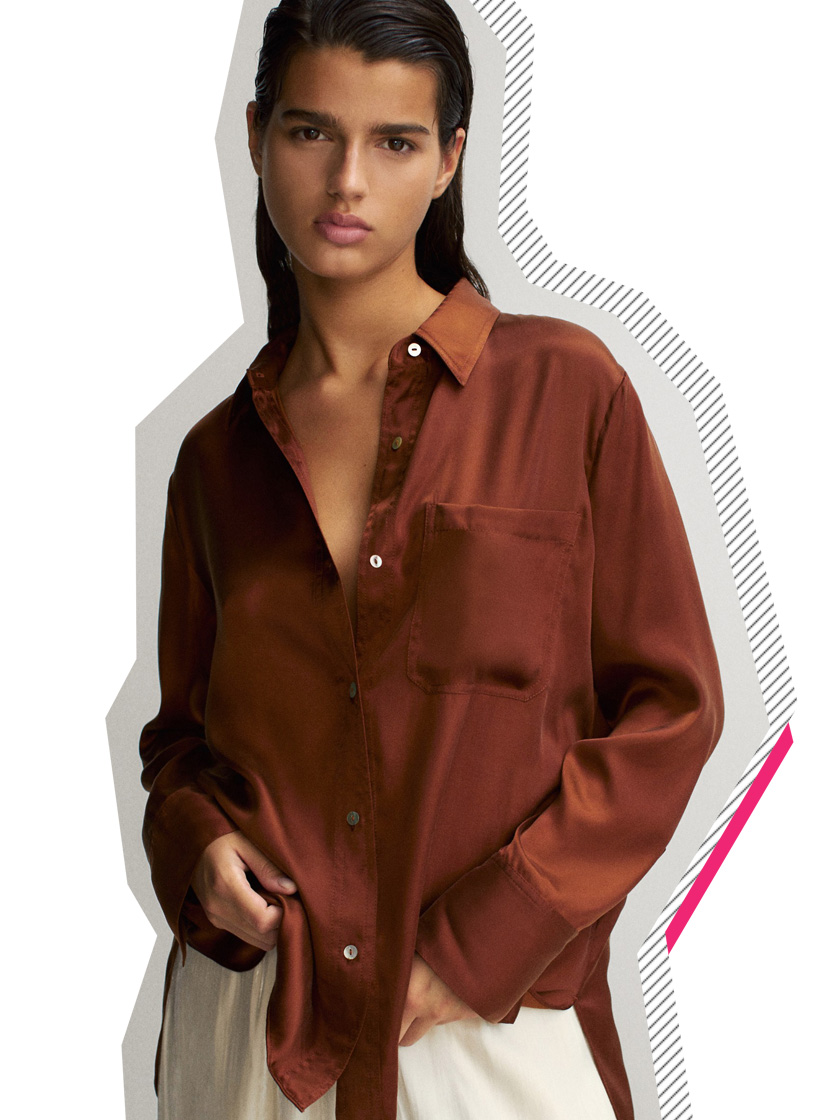 Massimo Dutti Satin Shirt
€ 30 instead of € 60
Another shirt? Another shirt, yeah. Let me just take this moment to complain about the sizes at Massimo Dutti. I tried every size from a 38 to a 44 and they all sort of felt and looked the same? I ended up keeping the 42 because it had the best shoulder-to-bust ratio, only to find out that there's still traction on the seems in the back. Like… How? It's like they used the same back panel for all sizes and only changed the front to accommodate a smaller or larger bust? But you have to have a 65 cm bra band size regardless of your weight, height and clothing size?
Go home Massimo Dutti, you're drunk.
Nice shirt though. I love that it's shiny but neither polyester (I get sweaty in polyester) or silk (too delicate to throw in the washer). Viscose is the way to go, man.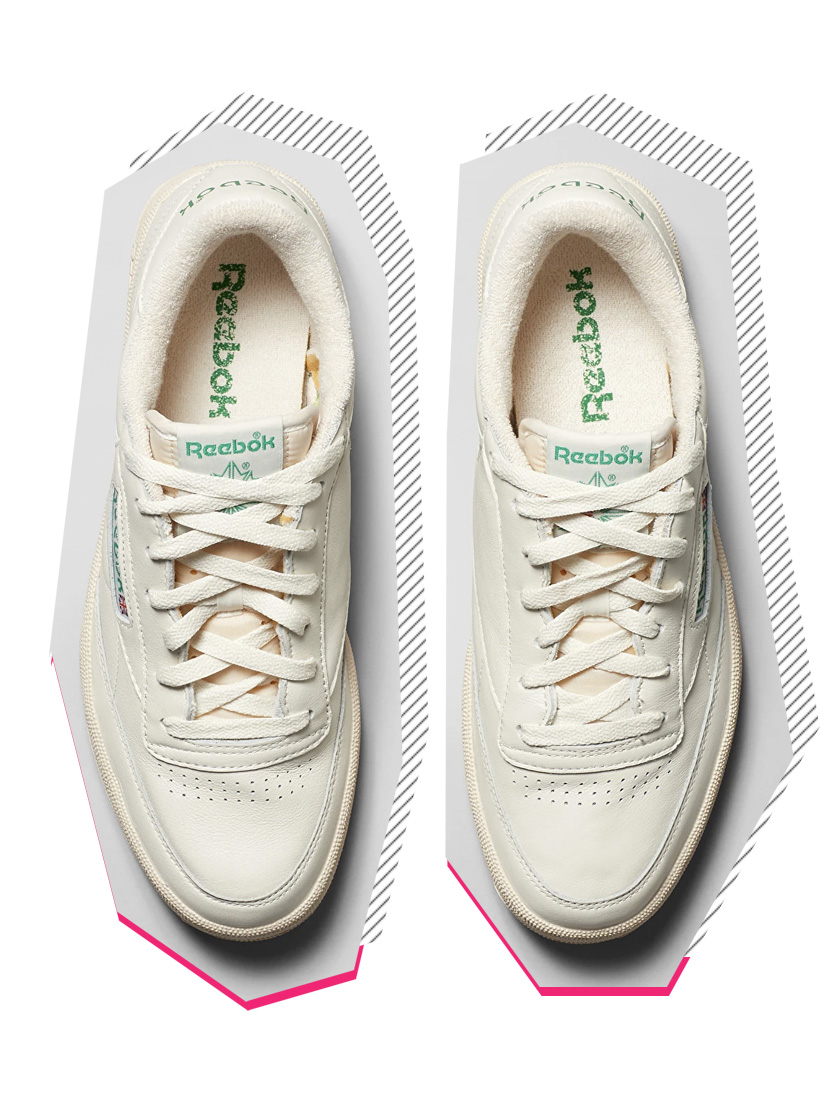 Reebok Club C Sneakers
€ 45 instead of € 100
Sneakers are like socks to me: a necessary purchase I only make when I need replacements. My Puma Classic Citi's have been my go-to's for 4 years but have now been resigned to painting, quickly-answering-the-door and beach duty. I came across these Reeboks at half their original price on the Weekday website and decided to order them. The cream colour and green details make them look a little retro, which I like. And they're super comfy, as sneakers should be.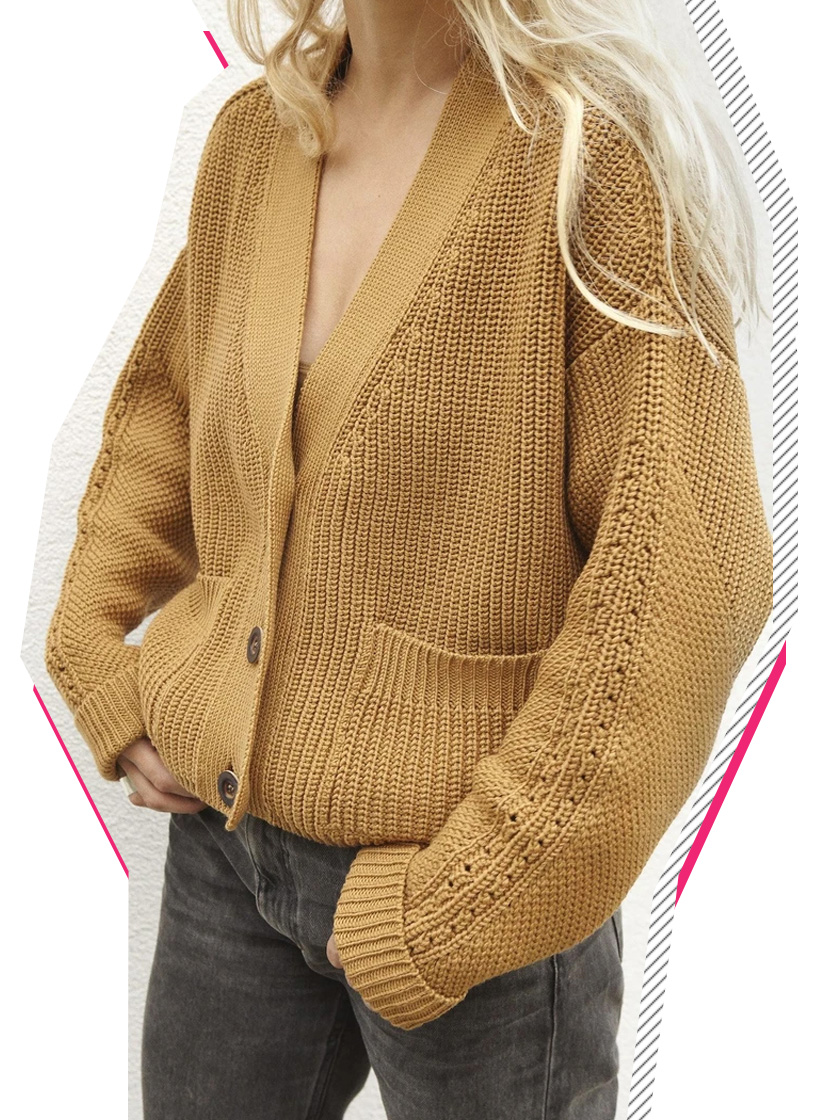 The Knotty Ones Preila Cardigan
€ 183 instead of € 229
This was a splurge, y'all. Due to the covid restrictions I didn't get to celebrate my 30th birthday the way I would have liked to so I allowed myself a bigger purchase. I still hear a little voice in my head whispering "why didn't you get the white one?". But the picture sold me on camel. I've gone as far as considering to bleach my hair just so the colour would suit me better, haha.
But the cardigan itself is such a beautiful piece I can see myself wearing for years to come. It's a chunky merino wool, sustainably made by fairly paid women in a factory in Lithuania. Each item by the brand is signed by the woman that made it. Mine is made by someone named Lina. Thanks Lina, I'll cherish it!
The Preila Cardigan is still for sale on The Knotty Ones' website.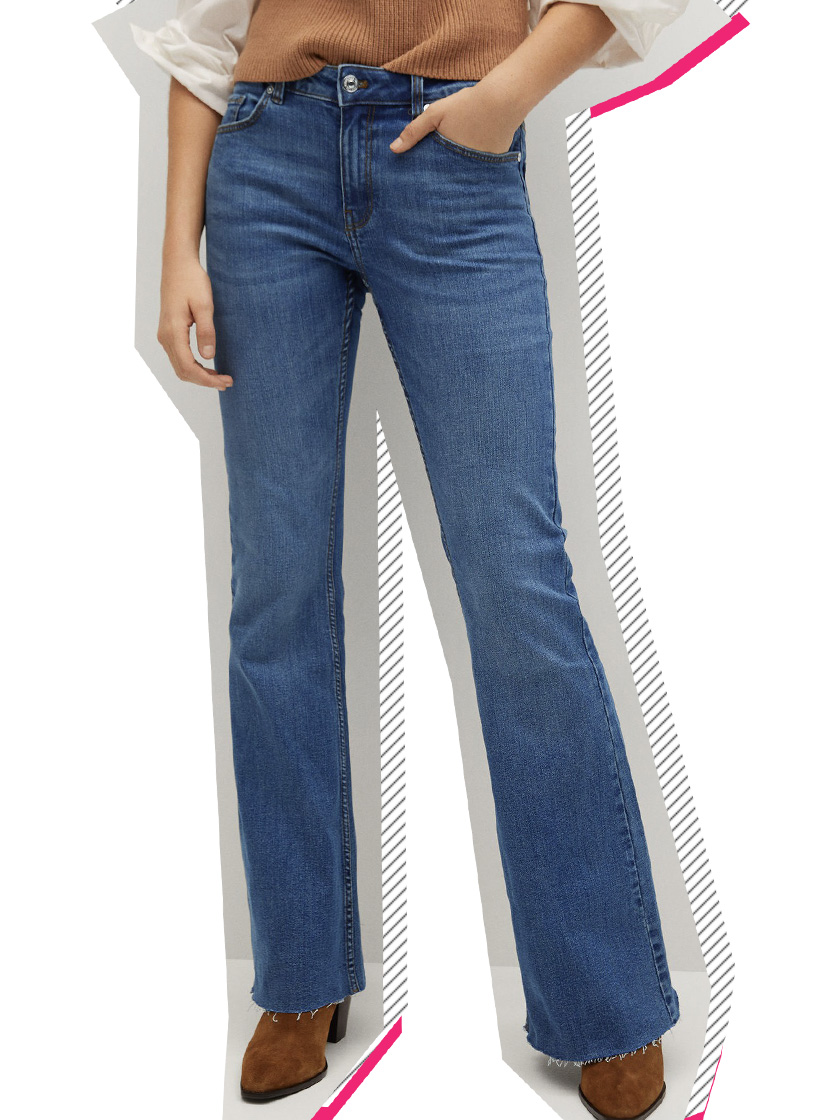 Mango Flared Jeans
€ 40
I unexpectedly received a big fat gift card from a friend (THANKS GIRL) and these jeans are one of the two items I've picked up. Unlike most flared jeans offered right now, these don't have a high rise. Which is a good thing, because I have come to dislike high rise jeans, you know, sitting around the house all day and all. Why torture yourself, am I right?
They're also comfortably stretchy and easy to shorten: the raw hem requires 0 effort. A+ although I still have to get around to actually shortening and wearing them.
As soon as spring comes around, however…
These flared jeans are still available at Mango. You can find them through their reference number 87002884-FLARE-LM.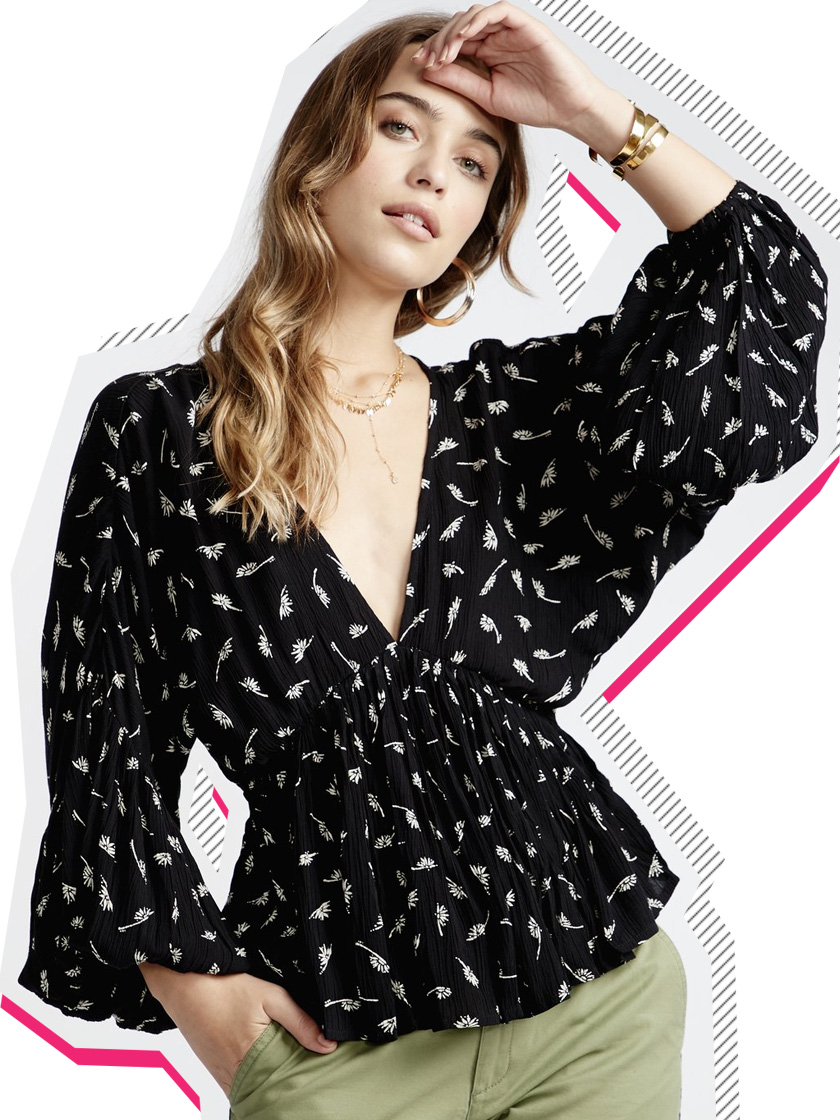 Billabong Whispering Thoughts Top
€ 55
Last but not least, this top by Billabong. It's the second item I got from the giftcard, and boy I can't wait to wear it come spring!
The deep v-neck and the shorter length make this silhouette super flattering on me. I'm thinking to wear it with my bleached Levi's Wedgies and my Vagabond suede mules. Total 2016 boho vibes.
That's when I peaked anyway.
Yikes, that's a lot more than I expected! Here I was, patting myself on the shoulder for not falling for the trap that is overconsumption. I do hope though that I'm buying classics as opposed to trend items. Most of these things I have already worn a lot and plan to bring out as soon as the weather allows it and as soon as we actually have places to go again.
Just for shits and giggles, I checked how much I spent. € 711. It's € 711. Well I'm not giggling that's for sure.
Am I the only one always underestimating how much they spend on clothing? I must say I have diverted my spending from beauty to fashion, now that I have stopped buying makeup completely and am on a replacements-only regime for skincare.
Still though, yikes.
Until next time!