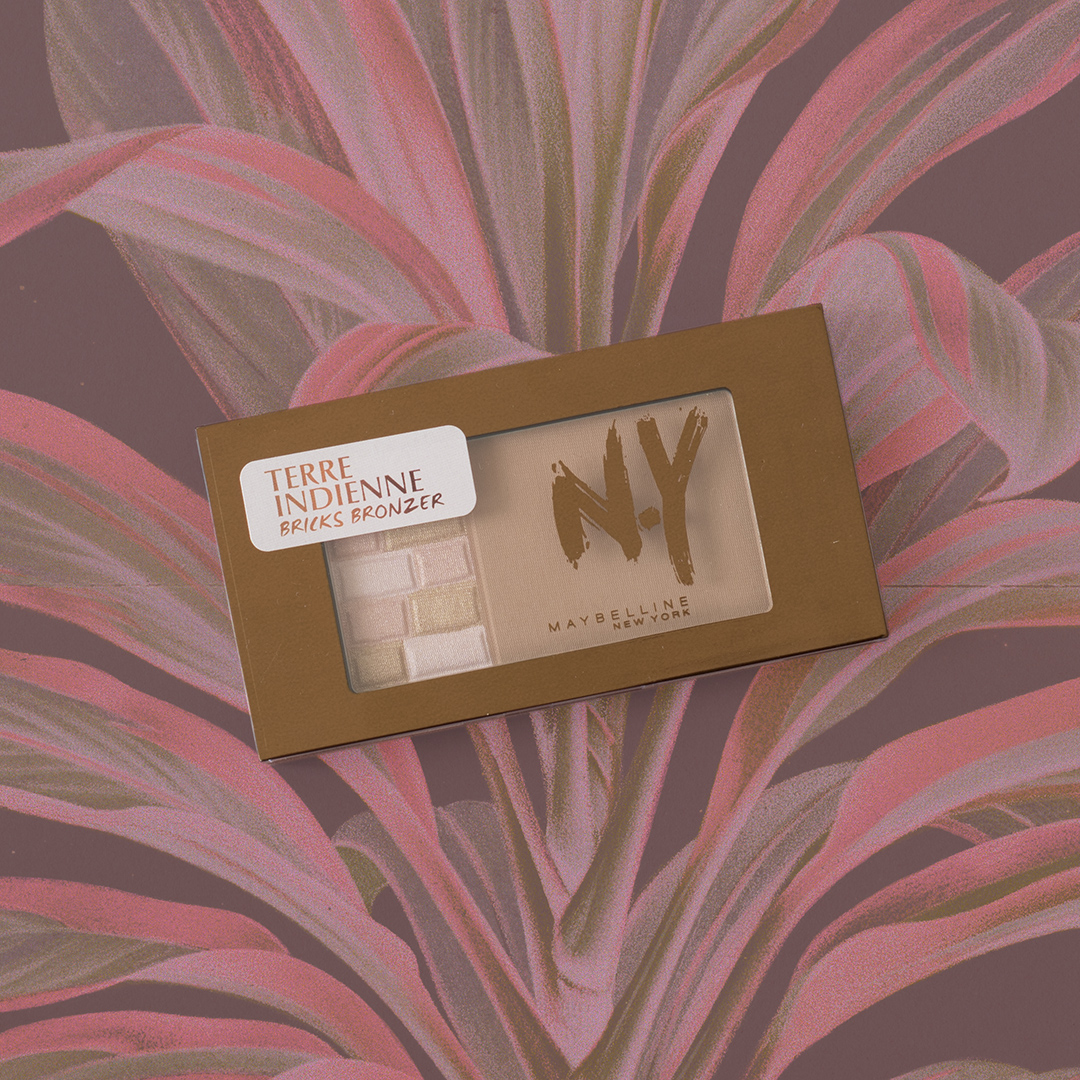 Alright so this little palette has been whispering my name ever so softly for the last 5 times I passed by the Maybelline counter at the local drugstore. When said drugstore decided to have a buy one, get one free promotion, I decided it was time to put an end to our mutual longing: I swiped my finger over the bricks and it was glorious! But how would that bronzer work out though?
Lately I had been using the middle colour on my Kiko Desert Dunes blush trio to add some warmth to my face using a stippling brush. I can get away with that because I don't bronze, I pink up like a slice of roast beef, so red is natural on me. But being the budding beauty blogger that I am, I wondered how I got this far in life without ever trying a bronzer. Maybelline's Terre Indienne is a true classic, I remember my mom using the triangle shaped compact every Summer, and I'm glad they have a shimmery on-trend option for those of us who dig novelties (guilty!). Also, the packaging is shiny ✨?✨
These powders are super soft to the touch, very fine and beautifully pigmented. One downside to the layout of this palette: The bricks part is rather small, and considering the pigment, and the fact this is more of a blush than anything else (at first I thought this would be more of a highlighter) when worn with the bronzer and you're as fair as I am, you're going to want to use a large brush to make everything blend. You could use a stippling brush, but I lightly dabbed my tapered face brush on the bricks part, picking up some bronzer too, and that worked fine.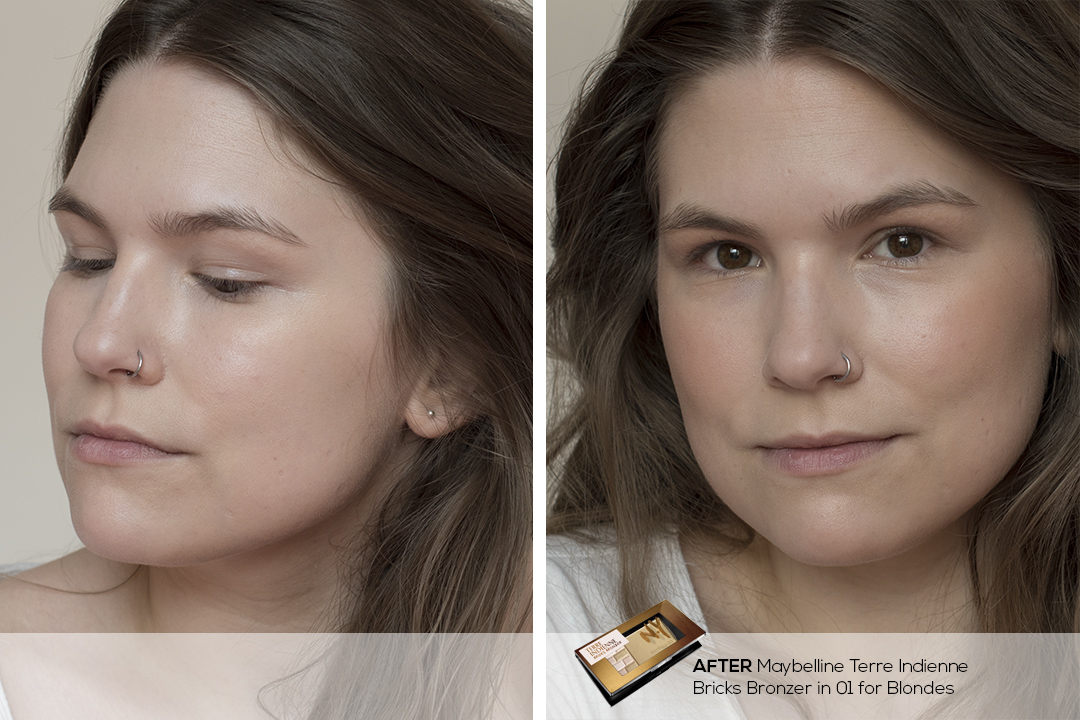 On the left I'm only wearing my Smashbox BB Water (applied a little thicker than in my review – this is ideal to build up! I used my fingers for extra coverage around the nose). On the right I used some setting powder and the bronzer on my forehead, down to my temples, below the cheekbones and jawline. The basic 3-shape. The colour I blended down the apples of my cheeks. I love the way it looks! Granted, I started out with a smaller brush so here and there I applied it a little messily. But this thing is a keeper! It's going to be a staple in my Summer make-up kit, for sure.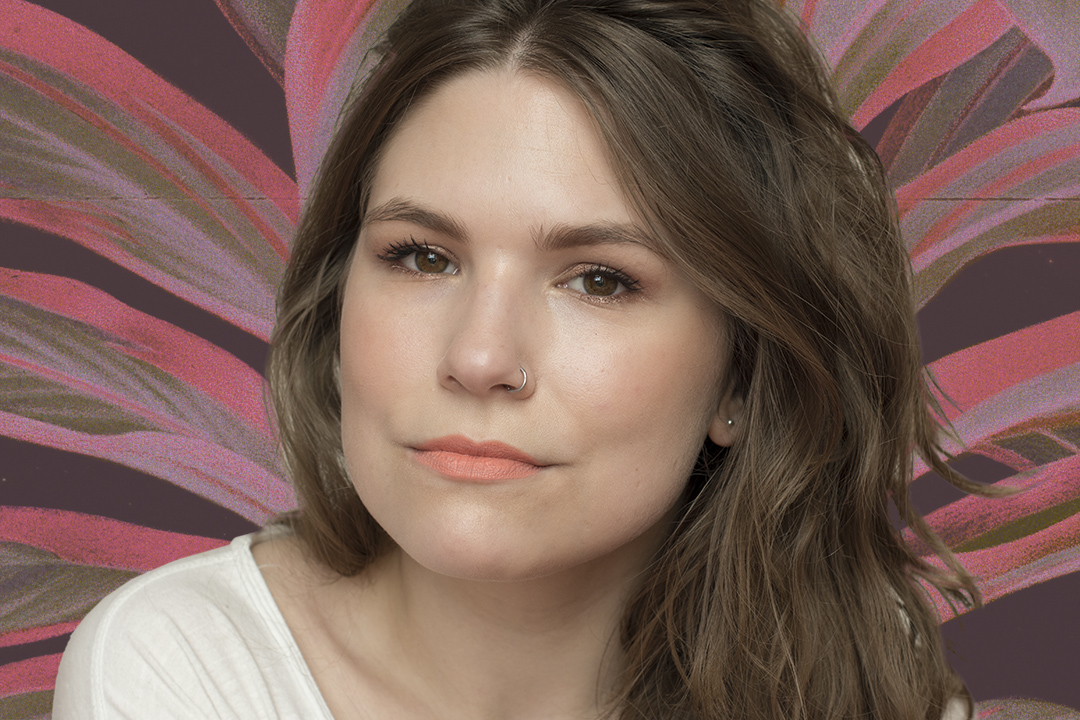 And this is the full look! In the picture I'm wearing NYX Soft Matte Cream in 12 Buenos Aires, and I have to say I'm not quite sure yet if I like this or not. I feel like I'm veering onto Jersey Shore territory, but that's maybe because of the bronzer and the sparkly eyeshadow – which is Catrice's Stylo eyeshadow pen in 030 Copper and Paste. I was really excited about it but then it started flaking off after like 3 minutes of wear. I'm going to further test this with a primer (I can already spoil for you that setting spray didn't help), and write a thorough review soon!
Rating: ★★★★
★
By the time this post goes live, I'll be in the car heading to my first day of a short internship at Marie Claire magazine! Considering I'm in between jobs at the moment I figured I could gain some professional experience in a more creative field. Quitting my old job as a medical secretary has been the best decision I've made since, like, ever.
I hope your work week will treat you well, peeps! Or if you've just started Summer break, enjoy!