A while back I attended an event hosted by Yapado in collaboration with Eylure and Elegant Touch. As a falsies (whether it be nails or lashes) noob, I was intrigued. I had actually used false lashes for the first time in my life about a week before when I went to the Yves Rocher Beauty Trends event which was a mixed success. Read: I still had glue on my eyelid up to 5 days later. ?  Anyway, my interest was sparked, but little did I know Eylure also offers a ton of nice looking brow products! The typography on the packaging just makes my former design student's heart skip a beat, but also: My eyebrows are a mess and I'll admit that I consider myself lucky that bushy and proud natural is this decade's norm. Make-up artist Florence Teerlinck gave me instagram-worthy brows using nothing but the Eylure Brow Palette and it was so dead simple I have been waiting anxiously for the moment to photograph the product so I could FINALLY start using it. (Rule of thumb for beauty bloggers: Always try to photograph unused products!)
I'm the kind of woman that opens her own jar of pickles but admittedly I fiddled around with this palette for several minutes until my boyfriend couldn't watch it anymore and opened it for me, haha. Once inside, you'll find a coloured wax for sculpting your brows, powder to fill them in, and a highlighter to enhance the shape of the arch. You'll find a mirror and a brush and sponge applicator in one. I know sponge applicators get a lot of stink eye but to it actually works just fine to apply the brow wax. The brush however doesn't give me much control, because the handle is so short I feel like I put too much pressure on the bristles in the palette as well as when applying the powder. I used my Jessup Flat Definer instead.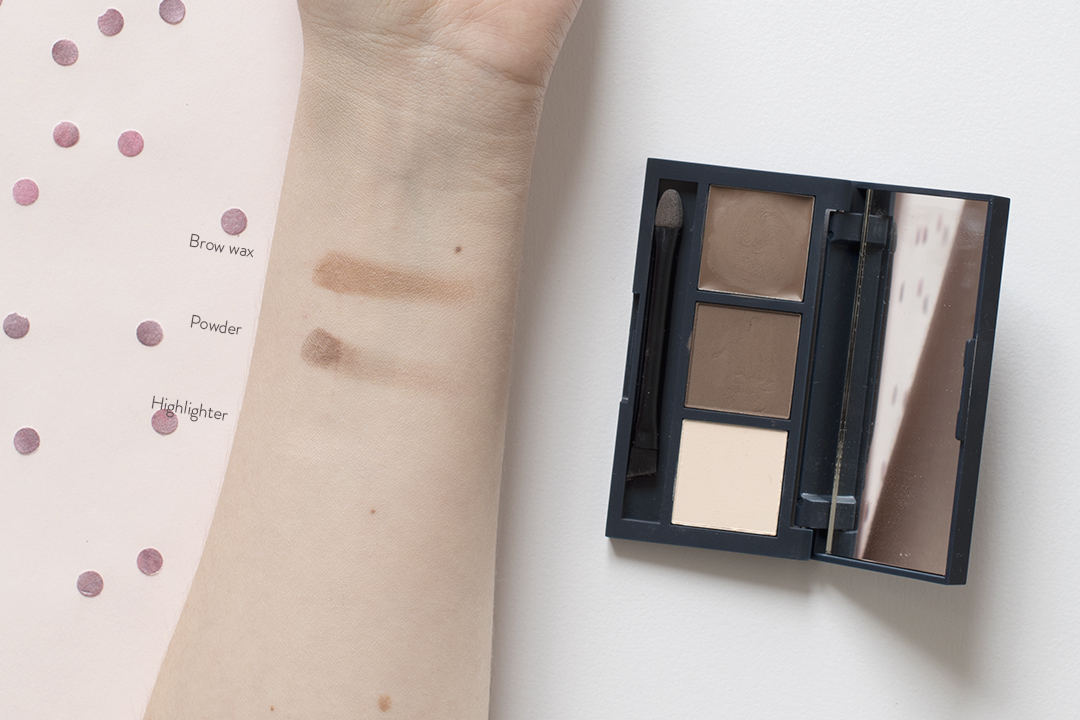 For a palette meant for blondes, I was surprised to see such warm, dark brown colours. My hair is quite dark but has an ashy, cold hue to it so I hate it when people call me a brunette cause I'm not and it makes me question my identity. The wax swatch turned out a little too pigmented because I swiped my finger through the pan like three times, haha (still learning here!). Both powder swatches are a single swipe. The highlighter, a matte off-white, is practically invisible on my pale skin, but it's there and I'm sure it would look good on less pale skintones. (Also that subtle vertical line that runs through the swatches is a kitty scratch, oops.)
I'm pleasantly surprised by how natural the warm tones look, and as a first experience with brow powder, I think I did a pretty good job. Apart from a few stray hairs, the wax holds my brows in shape pretty well and the powder blends very nicely. The highlighter is, even though it's white, too dark for me. Also I prefer a highlighter with some sheen to it but that's just personal preference because I like to ✨ shine✨  The top of my brows need some work done but frankly I have no idea what to do with those stubborn hairs – I'm contemplating a visit to the Benefit Brow Bar but I'm scared they'll end up looking too unnatural for my taste.
I wore this out on a particularly hot and sweaty day and my brows were still on by the end of the night so in terms of longevity, I'm giving this palette another thumbs up!
All in all this palette is a great addition to my make-up routine! I'm glad Eylure has helped me get over my fear of brow powder so I can throw my crappy old waxy brow pencil in the bin. Yay! At about €14,90 this isn't the cheapest option you'll find, so if you're on a budget, I'm sure you can find a good wax, powder and highlighter separately for less. But having everything tucked in a neat little palette obviously has its perks!
Rating: ★★★★
★
DISCLAIMER: I received this palette as a sample. I did not get monetary compensation for this review. My opinion was never compromised.