Dacht ik lipgloss nodig te hebben in mijn leven? Nee. Zit één van deze twee kleuren nu standaard in mijn handtas? Toch wel ja.
Urban Decay omschrijft haar Hi-Fi Shine Ultra Cushion lipgloss als een comfortabele formule met ultra glanzende kleur die niet vervaagt en de lippen een instant plumping effect geeft. Je kan kiezen uit 20 kleuren die ofwel semi-transparant, glinsterend of pigmentrijk zijn. Ik ontving Backtalk (pigmentrijk) en Bigbang (glinsterend).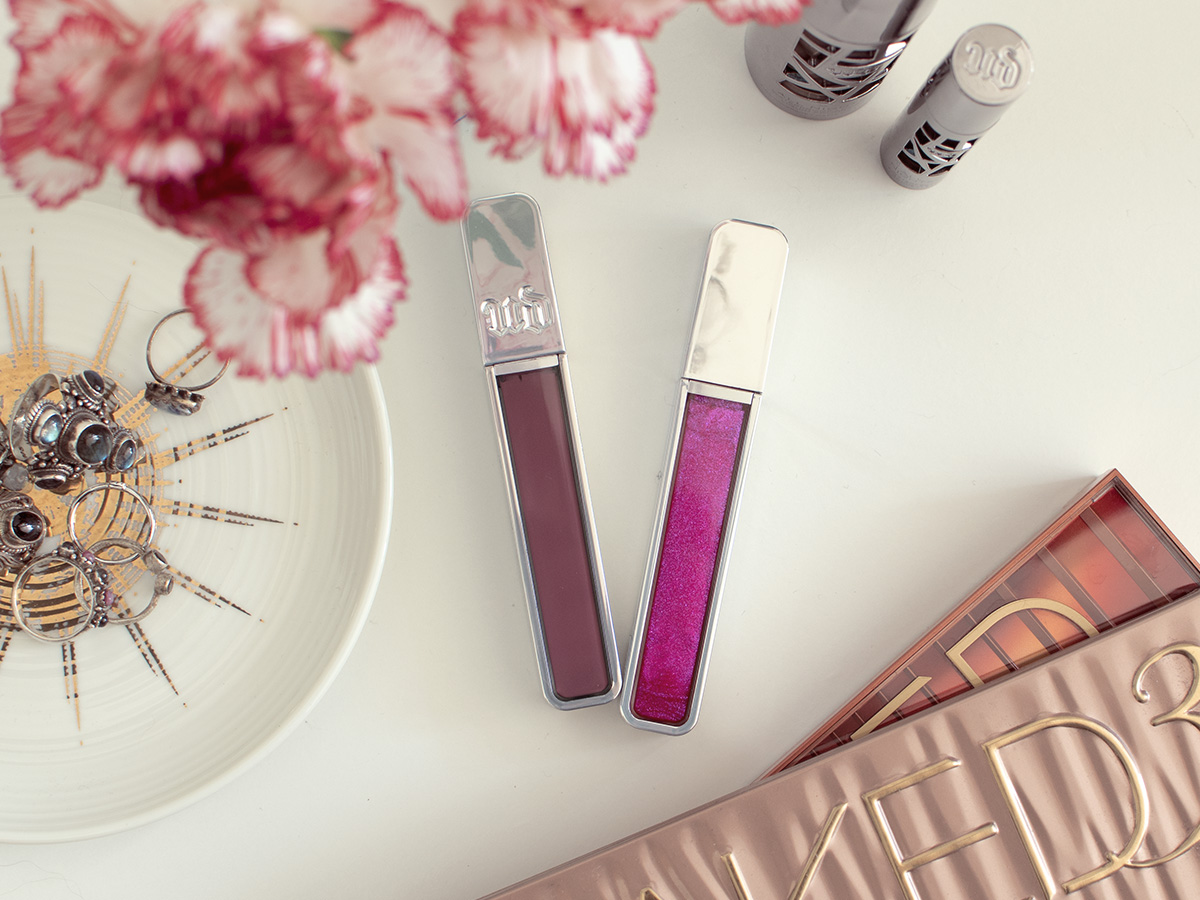 Dat je haren in je gloss gaan plakken, daar is geen ontkomen aan, ook niet met de Hi-Fi Shine. De eerste tien minuten blijven ook je lippen ietwat aan elkaar kleven, maar eens de formule wat gesettled is, blijft er een kussenzacht (hij heeft zijn naam niet gestolen) laagje achter, wat ook nog eens vrij lang blijft zitten voor een gloss.
Van de geur weet ik niet goed wat ik moet vinden. Vanille en munt samen doen me denken aan wanneer je wat zoets eet na het poetsen van je tanden, en dat gevoel valt best te omschrijven als teleurstelling. De munt is hier wel het sterkst, wat zorgt voor dat "plumping" effect. Het vanille-aroma vervaagt vrij snel.
Verwacht overigens geen Instagram-tuitmondje: net zoals de meeste plumping lipglossjes is ook hier het effect zeer tijdelijk. Zodra de tinteling verdwijnt, zijn ook je lippen weer hun normale formaat.
Hi-Fi Shine Ultra Cushion lipgloss in Bigbang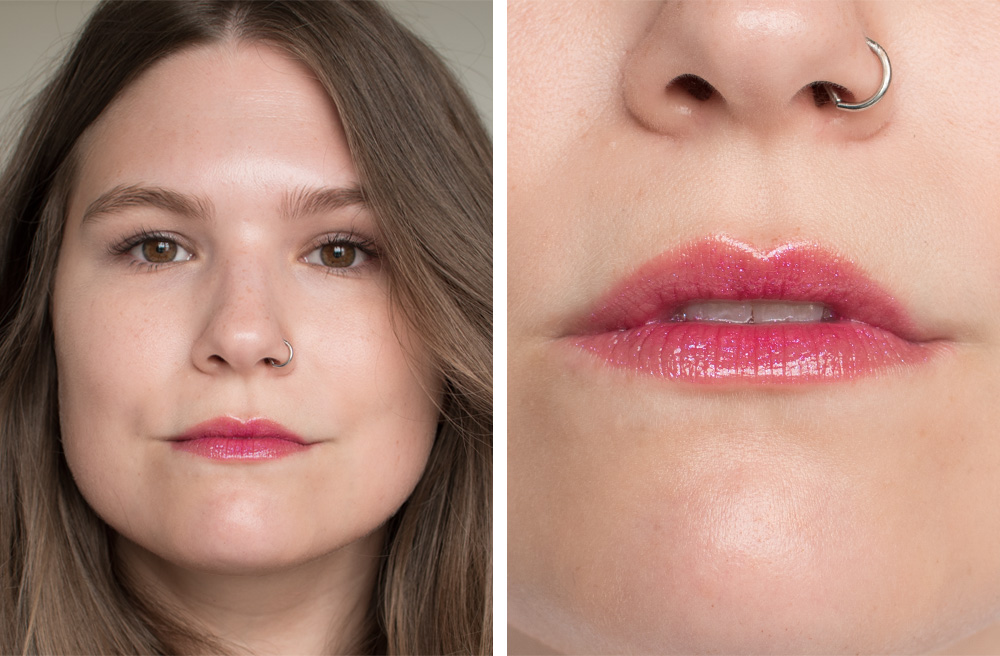 Magentaroze met iriserende glitters: ik had niet verwacht Bigbang mooi te vinden, maar het resultaat op de lippen is zo leuk. Hier en daar zit de formule niet helemaal gelijk verdeeld. Als ik dan ook één ding zou kunnen veranderen aan de Hi-Fi Shine, dan zou het de applicator zijn. Ik mis een goede punt waarmee ik mijn lippen goed kan aflijnen, waardoor ik minder vaak over dezelfde plaats heen moet glijden.
Hi-Fi Shine Ultra Cushion lipgloss in Backtalk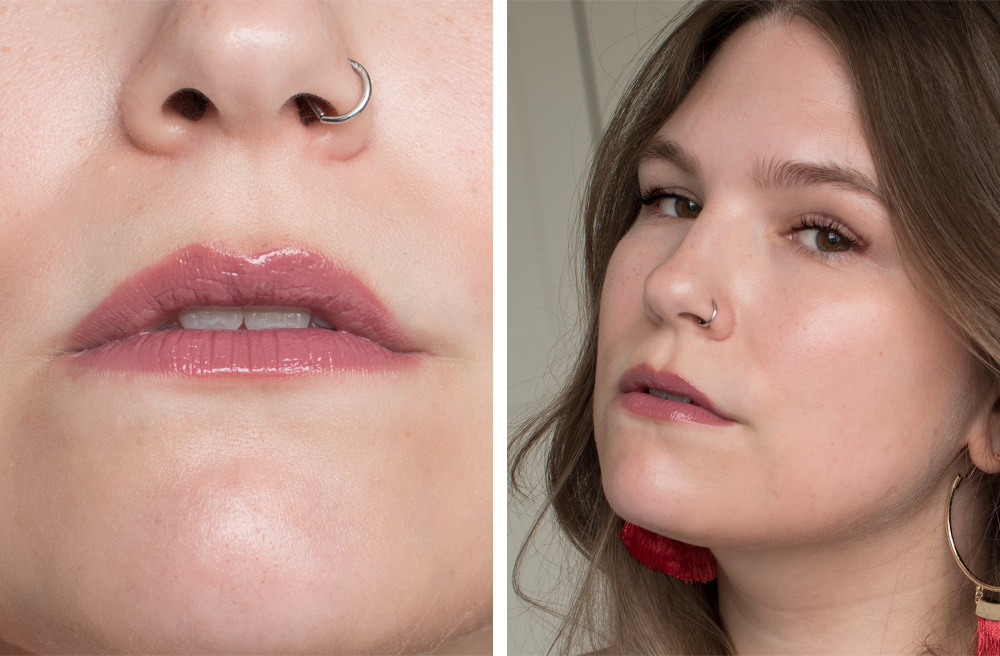 Backtalk is niet mijn kleur. De koele, grijzige ondertoon trekt zowat alle leven uit mijn gezicht, en het feit dat ik weinig tot geen make-up op heb in deze foto's (+levensmoeë gezichtuitdrukking) helpt niet. Maar wat een mooie formule, guys. Backtalk is egaal dekkend en heeft een romige vinylglans. Ik kijk met hartjesogen naar Snitch, een fris koraalroze met diezelfde creamy finish:
De Hi-Fi Shine Ultra Cushion lipgloss kost € 22,90 bij Ici Paris XL, of € 17,95 bij Lookfantastic.com (ik begrijp ook niet hoe ze het doen, but I ain't mad ?‍♀️)
Disclaimer: deze producten zijn PR samples. Samples worden vrijblijvend verstuurd door merken en bedrijven om getest te worden. Reviews op Pretty Sharp zijn echter steeds zo objectief mogelijk.