Niks zo vervelend als op een warme dag je lange haren als een tapijt in je nek en rug te voelen. Ter afwisseling voor standaardoplossingen als een knotje paardenstaart hebben we wat kapselinspiratie bij elkaar gezocht. Graag gedaan!
1. Het boho-knotje
Perfect bij je luchtige maxi-jurk of op het strand. Draai de voorste plukken van je haar rond je vinger tot ze strak zitten en maak ze vast met schuifspeldjes. Bind de rest van je lokken samen in een nonchalante knot.
2. De hoge vlecht
Zet je scherpe gelaatstrekken in de verf met een strakke, hoge vlecht. Simpel maar doeltreffend.
3. Met schuifspeldjes
Kristen Stewart's gebleekte haren werden onder handen genomen door celebrity haarstylist Adir Abergel, die bekendstaat om zijn complexe opsteekkapsels. Maak een diepe zijstreep in je net-uit-bed haar en ga aan de slag met je schuifspeldjes. Hoe rommeliger, hoe beter.
4. De paardenstaart 2.0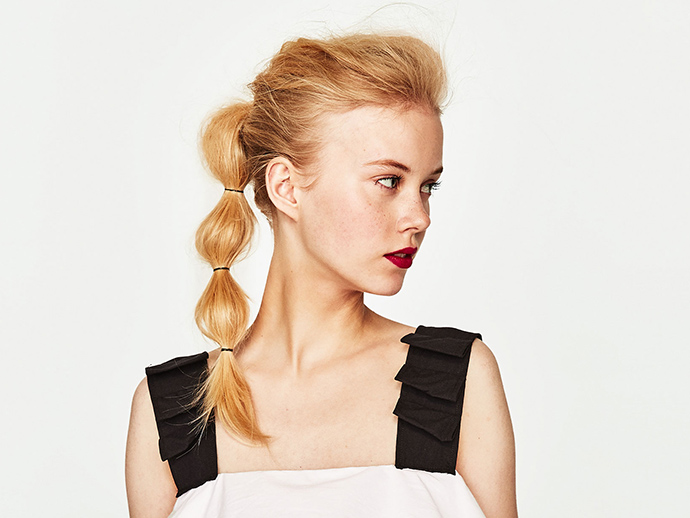 Elegant en helemaal kantoorproof: dit kapsel geeft niet alleen iets extra's aan je doorsnee paardenstaart, maar houdt ook kroezend haar en gespleten punten in bedwang. Gebruik siliconen haarelastiekjes zodat alles op zijn plek blijft zitten.
5. De dubbele knot
Als je halflange lokken niet in een hoge knot passen en je een ongewild nektapijt geven, maak dan gewoon onderaan je nek een tweede knot. Het ideale edgy kapsel om je piercings te laten zien.
6. Gevlochten knotjes
Deel je haar doormidden, draai twee lokken tot achterop je hoofd strak rond je vinger, weg van je gezicht, en pin ze vast. Vlecht de rest van je lengtes, maak er twee knotjes van en je bent klaar voor een festival of pool party.