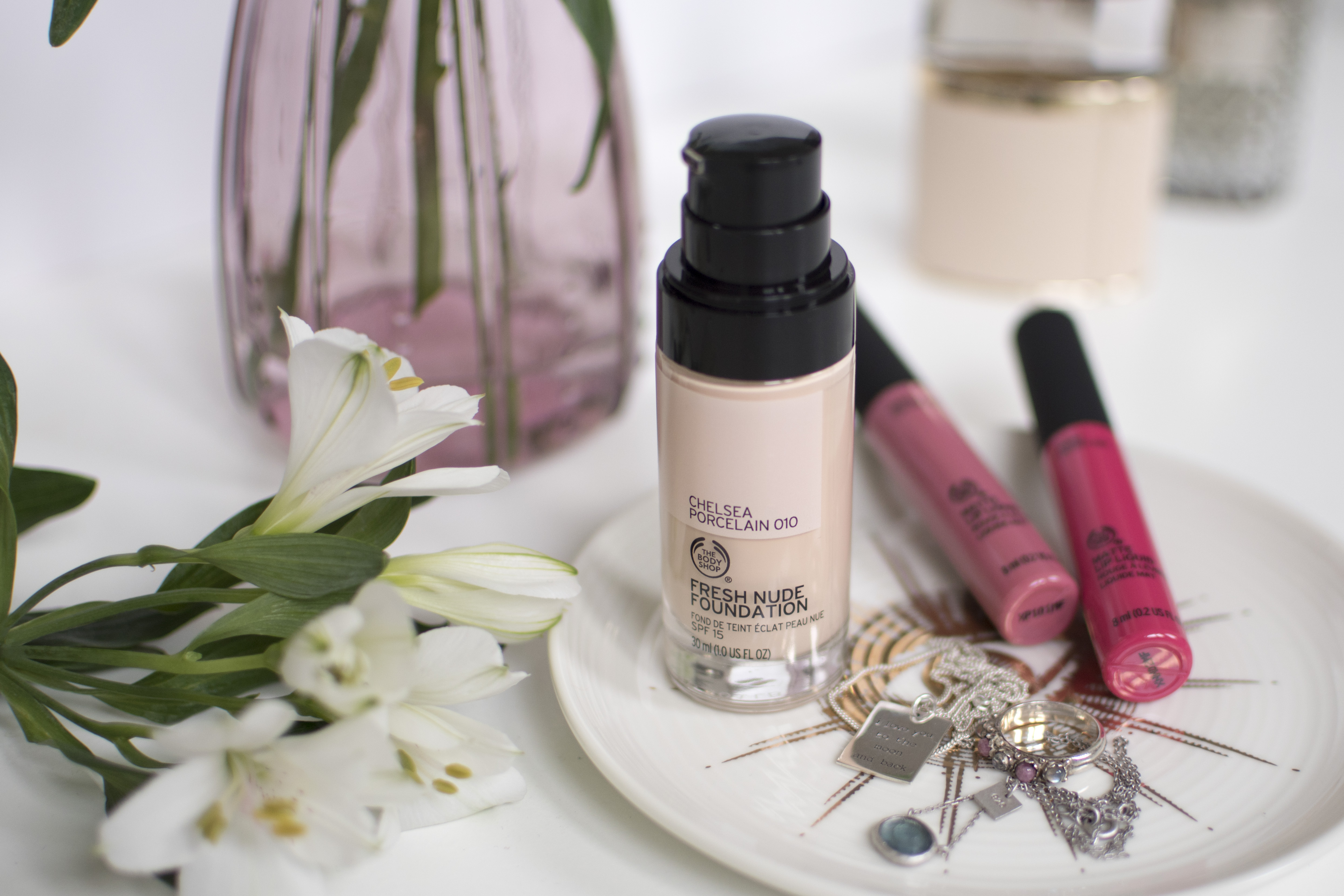 The Body Shop is lekker bezig. Afgelopen zomer lanceerde het merk in samenwerking met Cruelty Free International een nieuwe campagne en bijbehorende petitie tegen dierproeven en nog vóór ik nog maar één stem hoor zeggen "ja maar ze vallen onder L'Oréal" – laat me je alvast geruststellen dat The Body Shop sinds enkele maanden niks meer met L'Oréal te maken heeft. De nadruk ligt weer helemaal op diervriendelijke, duurzame producten, en dat is goed nieuws voor wie zijn veganistische levensstijl doortrekt tot z'n make-up, want veel make-up van The Body Shop is volledig vrij van dierlijke materialen. Hoezee! Op de Nederlandse of Belgische site lopen ze daar niet echt te koop mee, maar bekijk ter referentie vooral even het veganistische assortiment op de Amerikaanse website.
De Fresh Nude Foundation die ik vandaag wil reviewen maakt deel uit van dat assortiment. Heel eerlijk, ik heb geen idee wat voor dierlijke ingrediënten er in een foundation kúnnen zitten. Wat pigment misschien? Vetstoffen? Gadver.
De foundation is verkrijgbaar in 18 kleuren en een goede variatie in warme en neutrale tinten, zit in een mooie glazen flacon en heeft een goed pompje. Mag ook wel voor € 20. Zoals vrijwel altijd, koos ik de lichtste kleur in het gamma: 010 Chelsea Porcelain.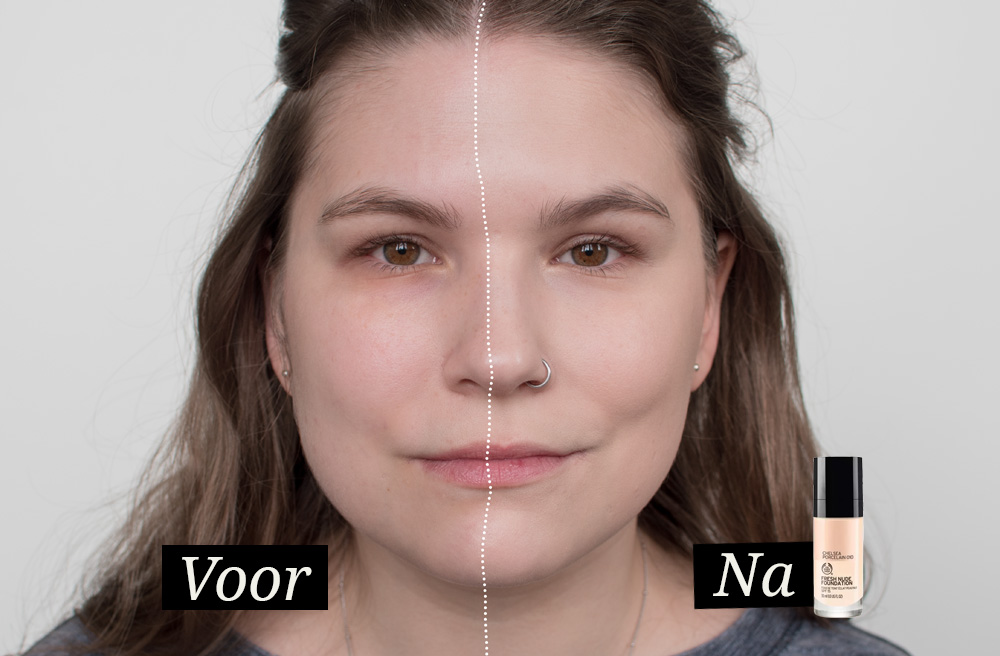 Zoals altijd gebruik ik mijn Beauty Blender (die ik onlangs voor de eerste keer na een jaar gebruik heb uitgekookt en ik schrok gewoon van hoe fel die kleur roze hoort te zijn), die wanneer ik te hardhandig te werk ga bij het aanbrengen, de foundation hier en daar durft te verschuiven. De romige formule zorgt er namelijk voor dat de foundation erg traag versmelt met de huid. Tenzij je echt de tijd neemt om te blenden, of goed afpoedert (zo meteen meer daarover), zou je make-up wel eens kunnen gaan glijden zoals mijn autootje zonder winterbanden op een ondergesneeuwde snelweg ha-ha-ha nee ik praat helemaal niet uit ervaring hoor. #11DecemberNeverForget
Alleen op mijn kaaklijn voelt de foundation niet erg prettig aan. Zou het aan mijn peach fuzz liggen? Zodra ik wat poeder aanbreng is het "vette" gevoel gelukkig verdwenen. Aanvankelijk poederde ik trouwens mijn hele gezicht af met mijn trouwe The Powder van La Mer (alleen een merk als La Mer kan het zich permitteren haar producten zulke namen te geven), tot ik opmerkte dat 's avonds de foundation én het poeder was geëmigreerd naar de diepste krochten van mijn poriën en fijne lijntjes (ik blijf halsstarrig weigeren ze rimpels te noemen). Less is more, dus.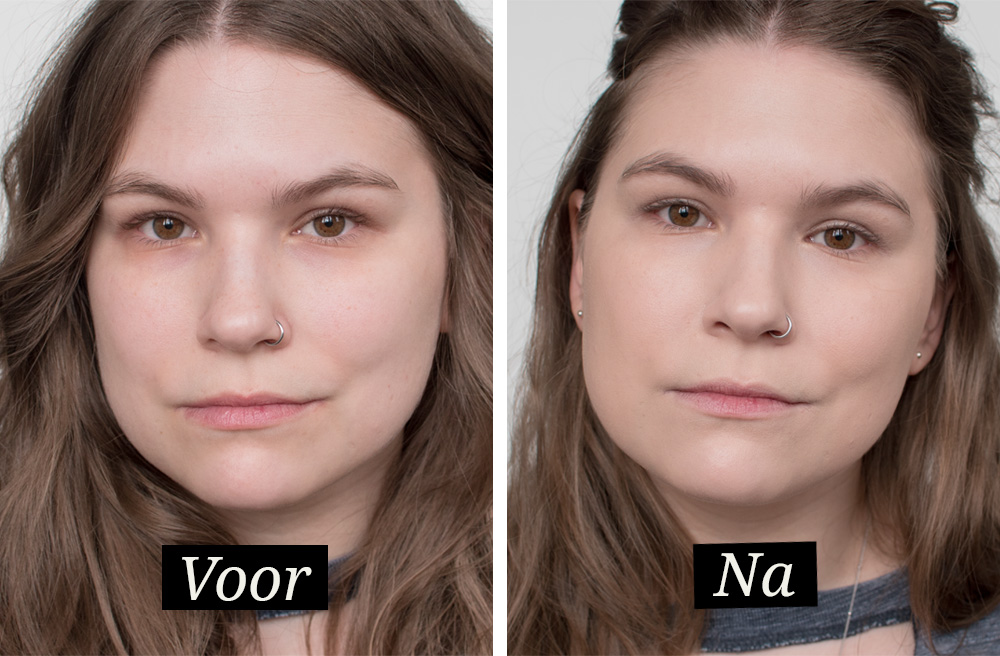 Het verdict: mijn huid ziet er heel mooi uit! Door mijn liefde voor cushion foundations en bb-cream-achtige formules ben ik erg lichte formules gewend maar dankzij de Diane 35 heb ik ook maar weinig om te camoufleren ?‍♀️ .
Mits wat blendwerk kom je tot een goede medium dekking. Ook de kleur, 010 Chelsea Porcelain is een goeie match, zelfs nu ik tijdens de donkerste dagen van het jaar spookachtig wit ben.
Blijft mijn make-up 24 uur lang zitten? Nee, maar eerlijk, dat verwacht ik van geen enkele foundation. Je huid is immers een levend orgaan, geen lap stof. Ik ben op een doordeweekse dag zo'n 10 uur van huis en hoe graag ik ook zou willen dat mijn make-up er 's avonds nog perfect uit zou zien, wil ik mijn poriën niet hermetisch afsluiten met exxxtreem langhoudende formules. Vocht- en talgproductie is normaal, guys. Laat je niet misleiden door gephotoshopte en gefacetunede instagramfoto's van plastic hoofden.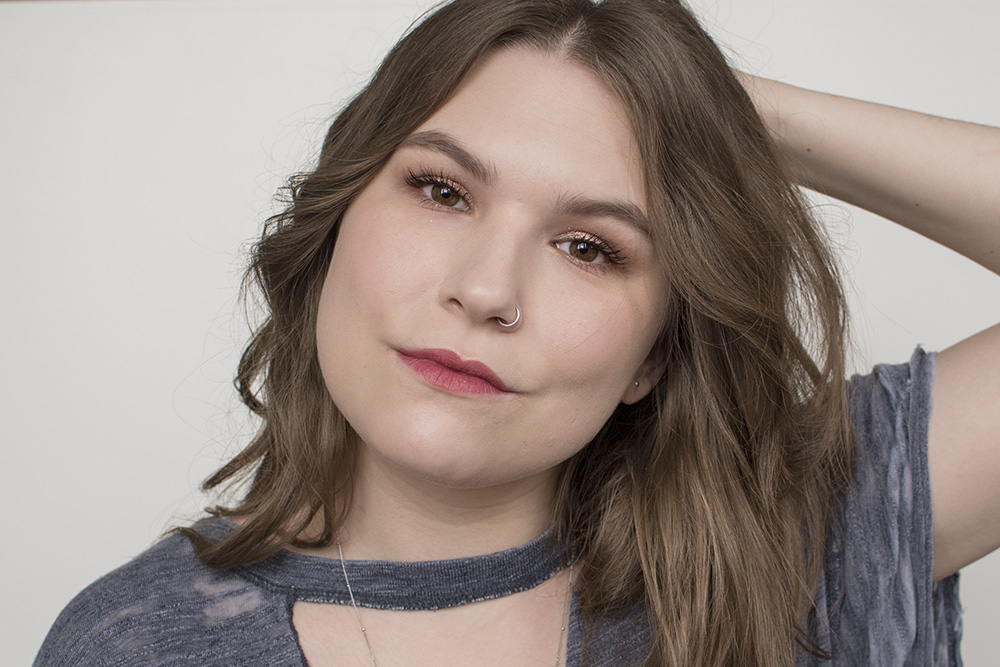 Vergeleken met mijn favoriete One & Done van Urban Decay blijft de Fresh Nude Foundation minder lang zitten, maar daarvoor moet One & Done wel inboeten aan dekking. Het komt allemaal neer op prioriteiten dus. Mocht je een mooie, natuurlijke foundation zoeken, dan is deze zeker eentje om te overwegen. The Body Shop geeft trouwens vaak erg mooie kortingen (25 tot zelfs 40%), dus zonder als een irritante pop-up te willen klinken, raad ik je zeker aan je in te schrijven op hun nieuwsbrief. 
Fresh Nude Foundation van The Body Shop, € 20.
Disclaimer: Ik ontving dit product ter review. Dit beïnvloedt mijn mening echter niet.