Hear ye, hear ye! An outfit post! I gladly went out in the freezing cold to show what I wore to a very neat event the other day. Featuring this cute Patrizia Pepe bag I got from Duifhuizen tassen en koffers.
These days I go to quite a lot of fancy events and yet I keep schlepping my trust old & Other Stories bag around. Don't get me wrong, I love that thing, but there's something not quite elegant about tissues and gum wrappers falling out of your bag when you're reaching for your phone. It's my day bag you know, and it should stay that way.
So when Duifhuizen tassen en koffers (or bags and travel if you will cause yes they ship outside Belgium and the Netherlands) got in touch with me for a collab, timing couldn't have been better. It was a tough pick (Furla Metropolis, anyone?) that literally took me DAYS but in the end I opted for this mini bag with gold hardware by Patrizia Pepe.
I like how a chain strap can make any outfit look a little more polished and a bit French. I wore this ensemble, baggy ripped jeans and all, to Maison Lancôme the other day: a cosy get together for bloggers and press. On a related note: anyone up for a first impression video on what I got in my goodie bag?
For the first time I felt in tune with the Grown Up Ladies with my Grown Up Lady Bag standing next to my chair at the beautifully set dining table. I know for a fact this bag will be accompanying me to many more nights out to come. Bonus points for its versatility: the top handle can be pulled out, so you can carry the bag by its double straps. A beautiful, classic look, which I will definitely try out.
Now I know that shopping at stores that aren't the size of Asos or Zalando can be daunting to some. Though it's worth doing some research before you buy – you don't want to miss out on a good deal am I right? More often than not, you'll find that your package, your order and potential problems will be handled with more care by a smaller company anyway.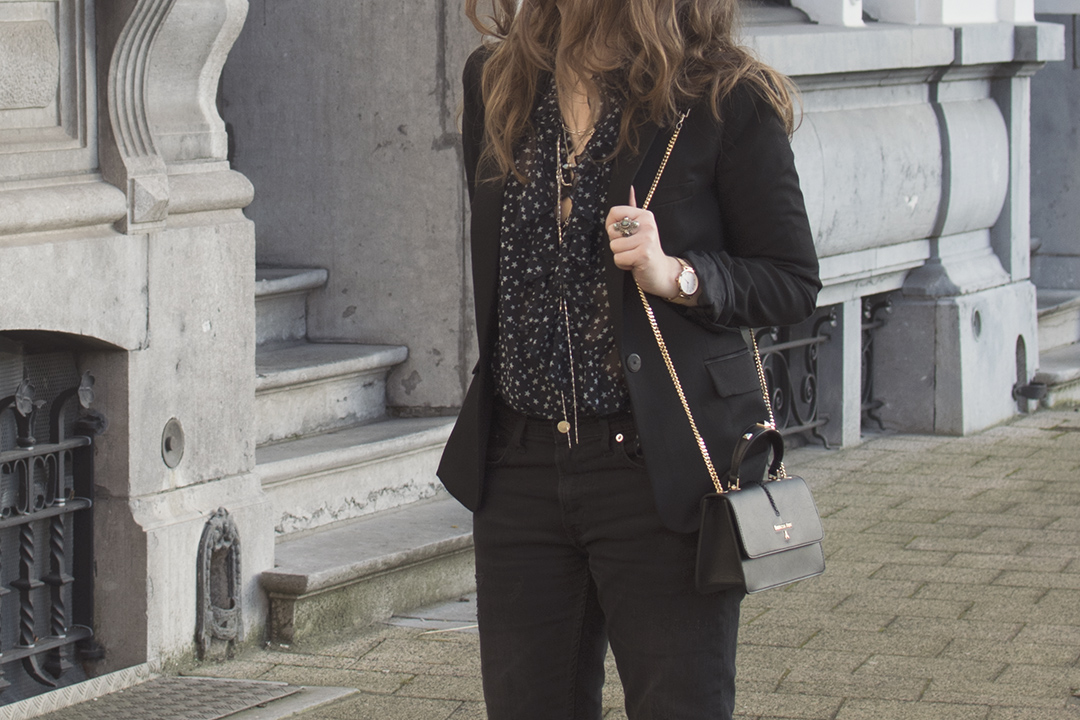 In other news, I have suddenly grown to like bodysuit blouses. I picked me up a pair of high waist jeans I'm sure will fit this style perfectly – they're the Levi's Wedgie fit jeans. They truly brought out the libra in me and I fussed over them for two weeks until I decided I was going to keep them. As I mentioned in last post, I've gained some junk in my trunk and even though I can't be bothered to try and cut down on my sugar intake (there's no such thing as a drink too sweet, I say as I pour myself a rose lemonade gin tonic) I definitely need to hurry my butt to the gym again.
Imagine a dinner at McDo: first you're like "YES OMG THIS IS GOING TO BE SO GOOD!" Then, you're sitting there with your food and you're like "hmmphh not as good as I expected it to be". After it's all gone you can hardly look at yourself in the mirror because odds are you're cramping up so badly you're bent in a 90 degree angle. And there's regret, obv.
The exact opposite of that, is what exercising feels like. "FUCK NO OH NO THIS IS GOING TO BE TERRIBLE" becomes "I guess this wasn't too bad!" and by the time you're done you'll be gloating about being an awesome #fitgirl. Just don't go crazy on the snacking afterwards.
See you all* next time! ✌️
(* All 34 of you ?)