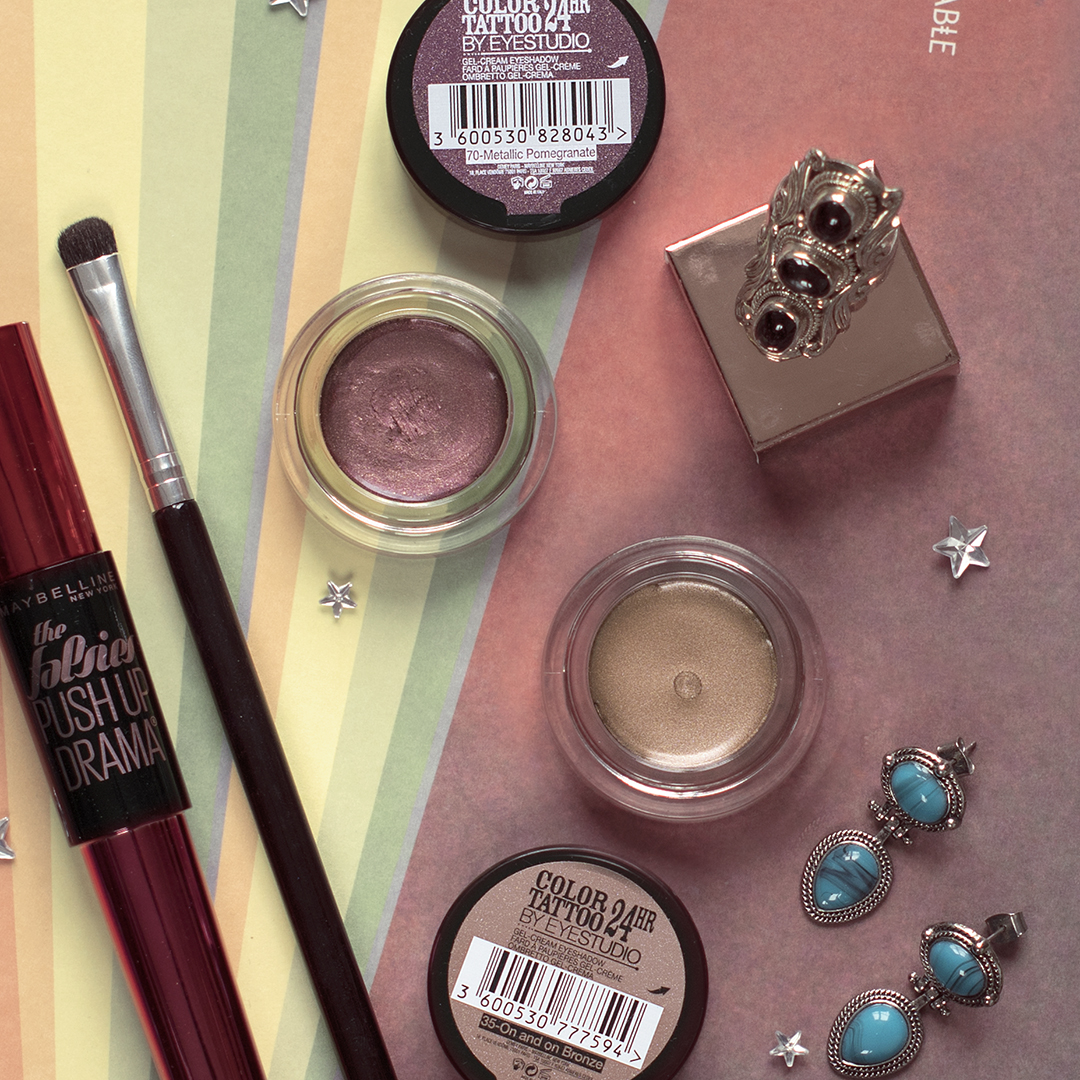 As a budding beauty blogger, it's almost embarrassing to admit that I don't know much about eyeshadow and creating a good eye look. For the sake of not making a total ass of myself, I'm going to dip my toe in, slowly! These gel cream eyeshadows by Maybelline are excellent tools to Doing Eye Make-Up for Dummies. I was impatient and dipped in the red shade before taking these pictures. Oops!
First thing we need to establish is the different colour names, globally. The European pots I have are called 70 Metallic Pomegranate and 35 On and on Bronze. On the US website, I see equivalents called 30 Pomegranate Punk and 25 Bad to the Bronze and they look pretty much identical to me.
So here's what Maybelline promises us:
"Ink technology creates 24HR wear shadow for our most intense, long-lasting color saturation.
Cream formula glides on without creasing and keeps color vibrant.
With fingertips, sweep all over eye from inner corner and work outwards.  For added drama, darken as desired."
maybelline.com
Sounds like an eyeshadow holy grail! On to the swatches!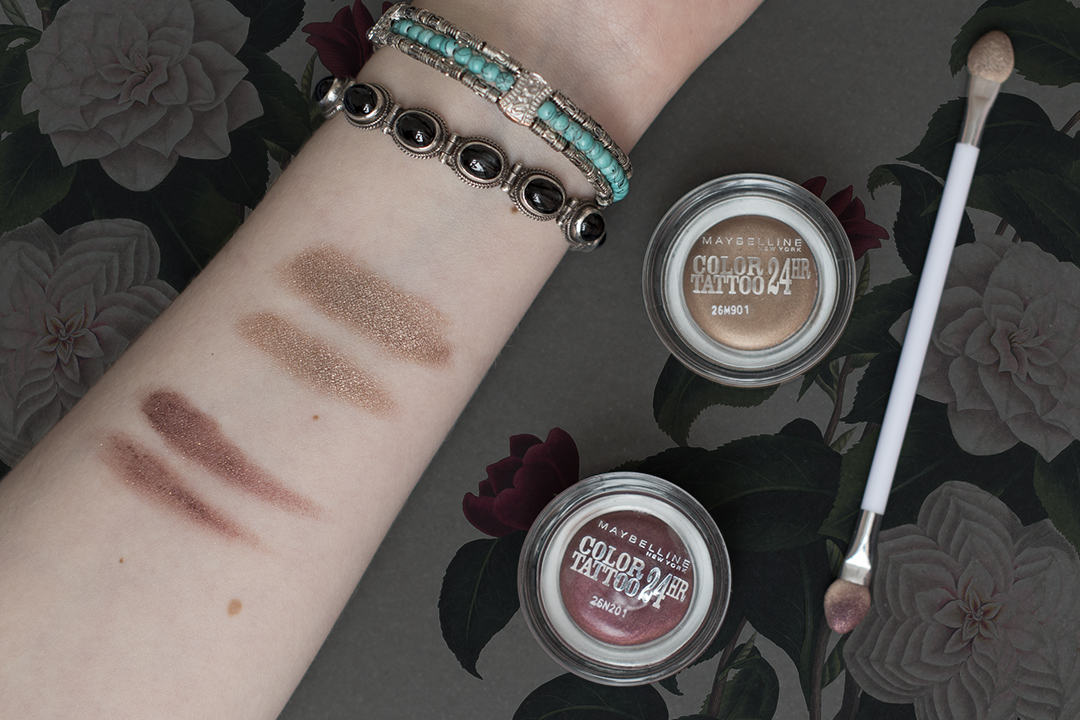 At first I wasn't greatly impressed with the color saturation. Granted, all cosmetics brands use hyperboles and to achieve the colour the way it looks in the pot, you'll probably need some kick ass loose pigment? (I'm dying to get my hands on a good red, it's such ) But as I started building the product, I ended up liking the result a lot! As you can tell the pomegranate is a little more difficult to get on evenly for some reason. It's a little drier and goes on less smoothly than the bronze.
Because I have hooded eyes I don't have a lot to work with, so dabbing the cream on with even my pinky finger isn't as precise as I want it to be, and the whole thing becomes more tedious than slapping on a good primer and powder shadow. I tried a brush, but it didn't really pick up the product very well. But then ? I remembered all of the sponge applicators that come with budget eyeshadow palettes. Because what's a better way to apply cream based products than a sponge, right?!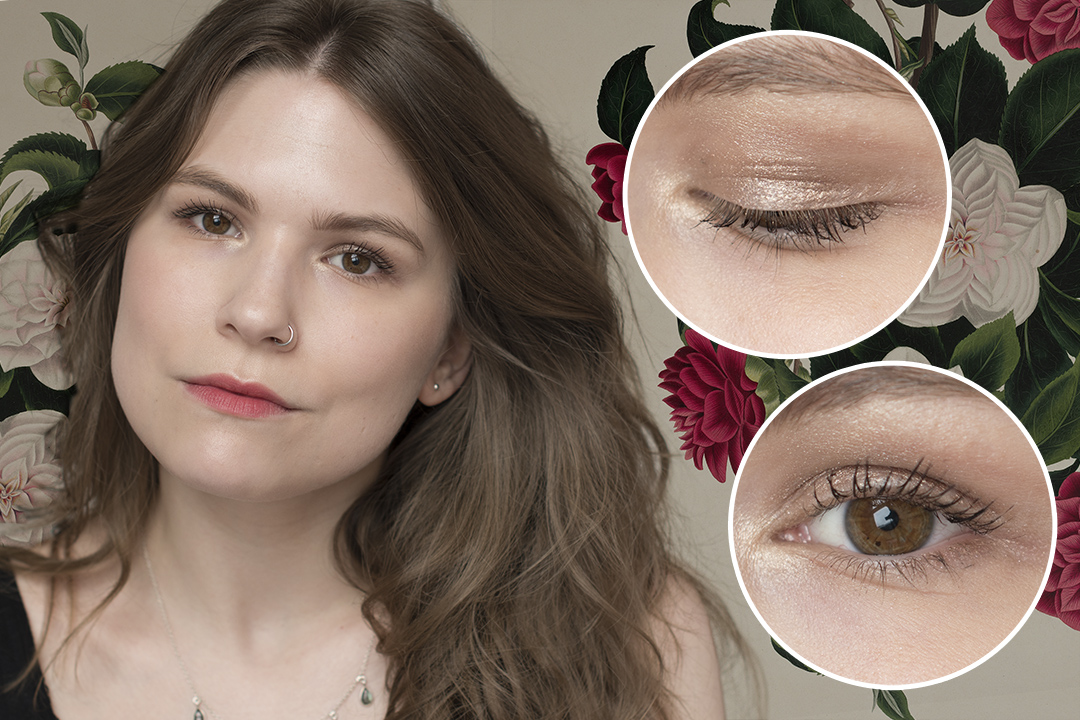 Ugh this is so perfect, lasts all day, looks beautiful with my everyday "natural" make-up. Hover over the picture to see what else but the Color Tattoo I slapped on my face. (Also works on the picture below!)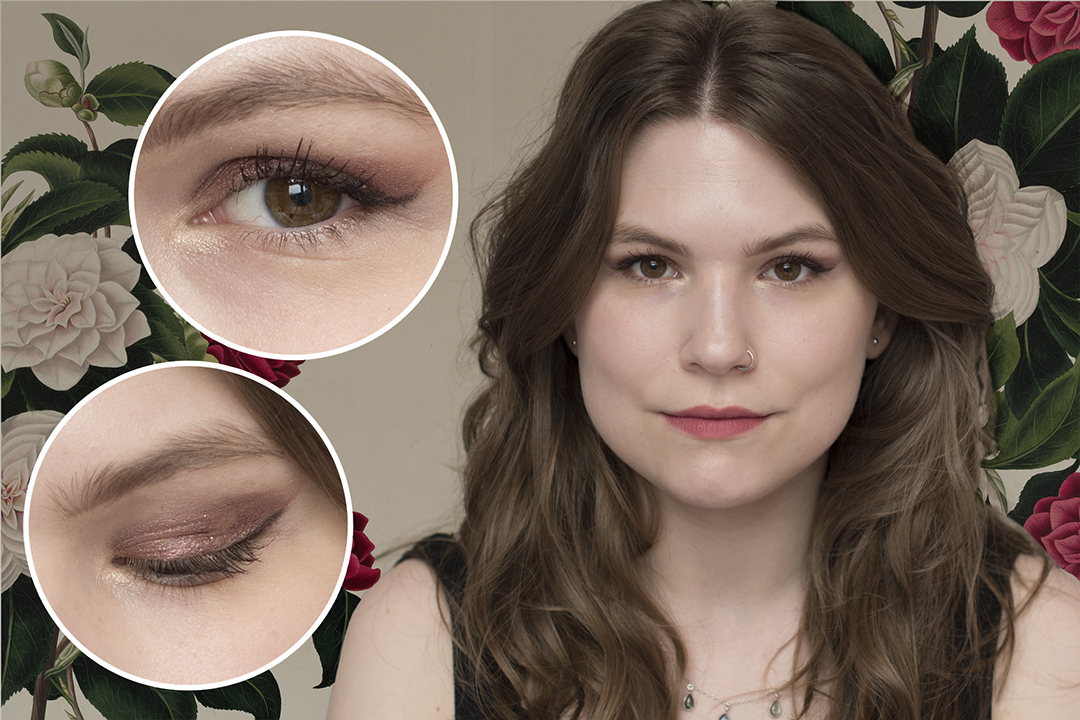 This is a little less smooth and effortless, slightly patchy even, but I'm not too demanding because I hadn't seen this until zooming in on my eye until it was the size of my fist. Also I have hooded eyes so you never even get to see that area of my eye anyway unless I'm asleep, hah.
Anyway, I've worn the Metallic Pomegranate on a very hot day during a stressful drive in my 2001 Skoda that doesn't have airconditioning but does have its own eco system (a variety of molds). You could call it the perfect test and this baby's passed! I came out of the car looking like an oily shrimp but my eyeshadow was still on point: No creasing, smudging or fading!
So all in all, if you know how to translate Hyperbole to Common Sense, the Color Tattoos do what it says on the tin. When applied lightly these are definitely a good first step into eyeshadows! If you've passed the novice level, they make a great base for your eyelooks as a coloured primer: Let's say I find that rich red colour I've been dreaming of, a layer of Metallic Pomegranate will only enhance the richness! If only n°50 Edgy Emerald was available here because it looks glorious ✨ … If anyone needs me, I'll be scouring online US drugstores for the next few hours.
Rating: ★★★★
★
PS: Yes I'm wearing the MUA Luxe Highlighting shimmer stick even though I gave it a very shitty review (I was PMSing) but I found the ULTIMATE way of applying it: As a primer. I applied it generously on the cheekbones, nose, chin and forehead and I felt GILDED all day.