Glow is life, guys. Whether they come in liquid form, solid in a stick or as pearls, as a pressed powder, a loose powder or a cream: I love highlighters. Today I'm reviewing two different formulas from two different budget-proof brands. Here we go! ✨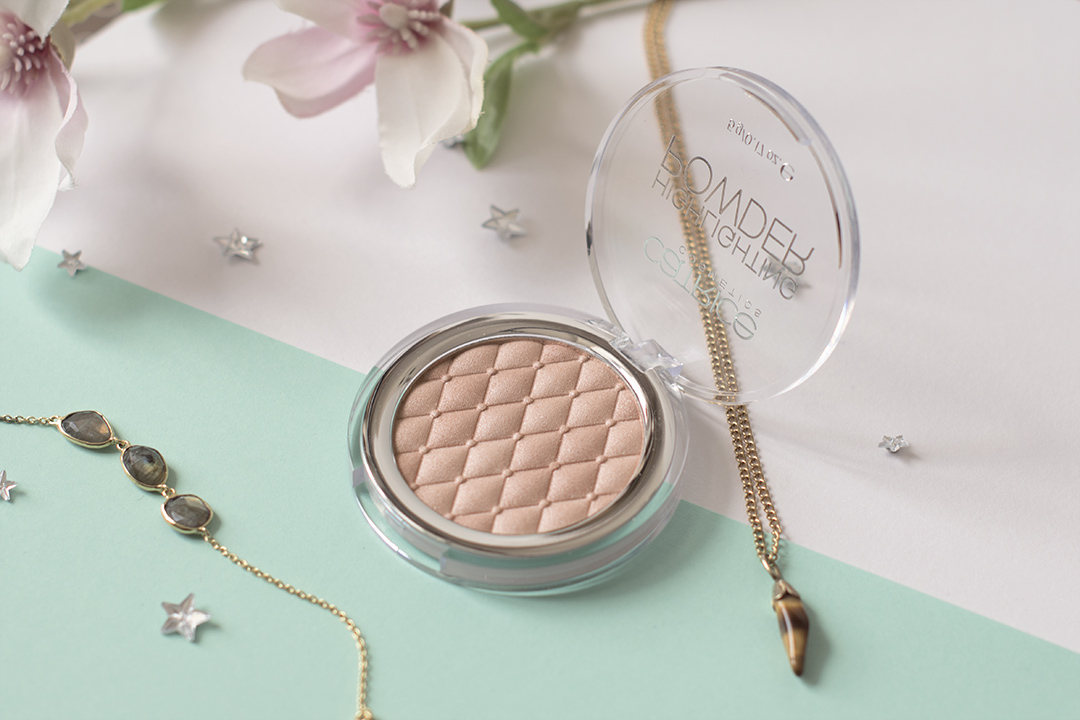 "The Highlighting Powder comes as a soft and velvety powder with a pearl effect. This innovation leaves radiant light reflections as well as a soft glow on the skin. A highlight for highlights."
catrice.eu
"Accentuate and define your complexion with MUA Luxe's Highlight Shimmer. The creamy formulation is easily blendable – wear alone or apply over your foundation to achieve a subtle and glamorous gleam of light gold."
muastore.co.uk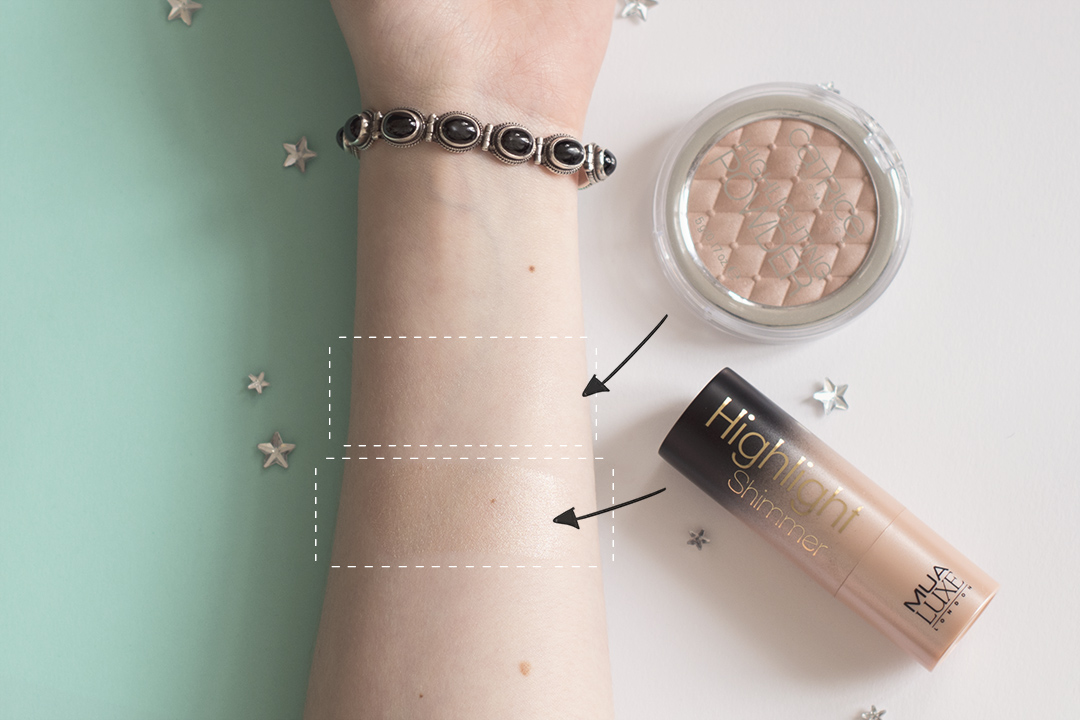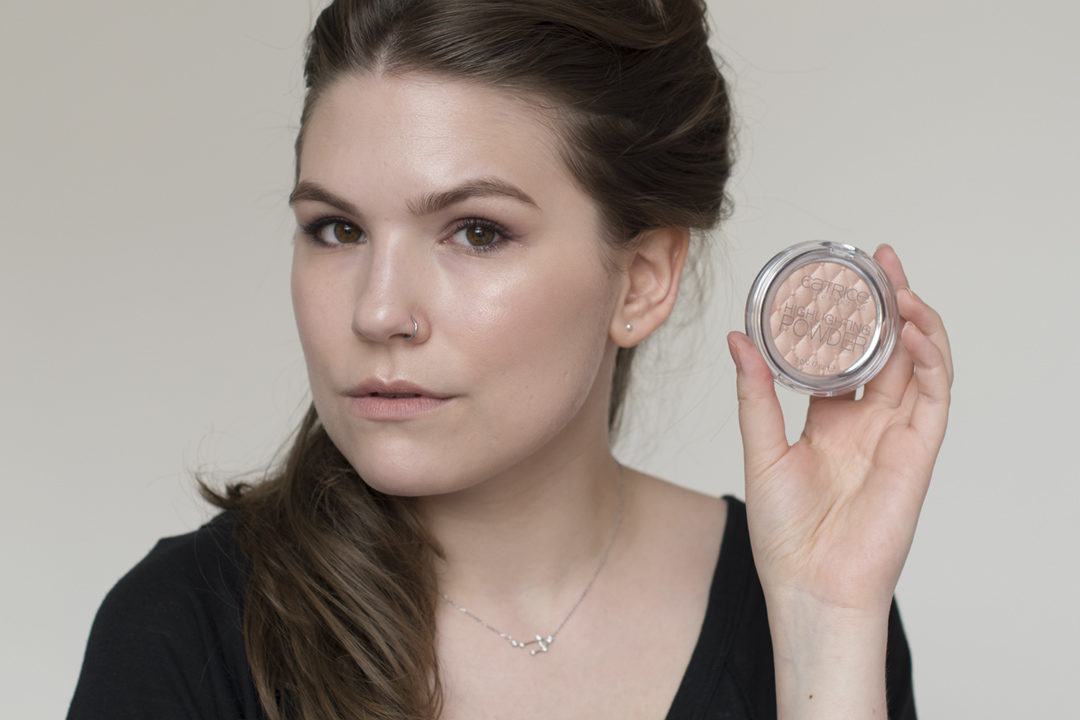 Catrice Highlighting Powder in 020 Champagne Campaign, €3,99 ★★
★★★
If you want to glow like a lighthouse, this one's not for you. The amount of powder that comes off is very unsatisfying: I had to go back into the pan about 3 times to achieve the result on my cupid's bow, and I won't even bring up the swatch on my wrist in picture number 4. Contributing to my disappointment is the fact that this powder is actually more neutral or even cold toned as opposed to that gloriously warm tone you'd think it is by looking at the pan.
Don't get me wrong, it ends up looking nice when you put in the effort, but it's just not what I was looking for ☹️
MUA Luxe Highlight Shimmer stick, €5,99 ★
★★★★
Do you have oily skin, or an oily T-zone? I'd say this is a no-go. Normal to dry skin? Use with caution. Seriously. MUA says this is a very blendable formula but as you can probably tell by the picture (the smear above my eyebrow, anyone?), I have to disagree. An attempt to blending with a sponge ended up in blotchy foundation and blush. The French description* says the application is supposed to be easy and precise (so I'm not a dumbass for putting the stick directly onto the skin, right? RIGHT?). Applied with a sponge nothing seems to show up on my face. Applied with a concealer brush on the cupid's bow it looks very nice and stays longer than powders will do, but only use this in small dosages. Which makes little sense because the stick is pretty damn big.
Also I feel like this stick accentuates pores and peach fuzz, which is no bueno.
*A webshop automatically assigning you a language is annoying as it is, but imagine the nuisance of that language being one you hardly even speak. 
Edit May 28:
Last night I had drinks with one of my best friends and I noticed her fabulous glow which just so happened to be the MUA Luxe Highlight Shimmer stick! It didn't look oily at all so I asked how she made it work. I apply highlighter last – after a dusting of fixing powder, because fixing powders are always a little mattifying. She did it the other way around: apply the Shimmer stick, then fixing powder. I tried this and my pores were still accentuated, but from a distance, it definitely looked better.
Updated rating: ★★
★★★
This was a little more brief than my usual reviews, I'd say the pictures did most of the talking this time around. If you're disappointed, I would like to offer this picture of Lala pondering life as she hangs from her basket as a consolation prize.
"What are pepperonis even? How are they that?"
Until next time, peeps!