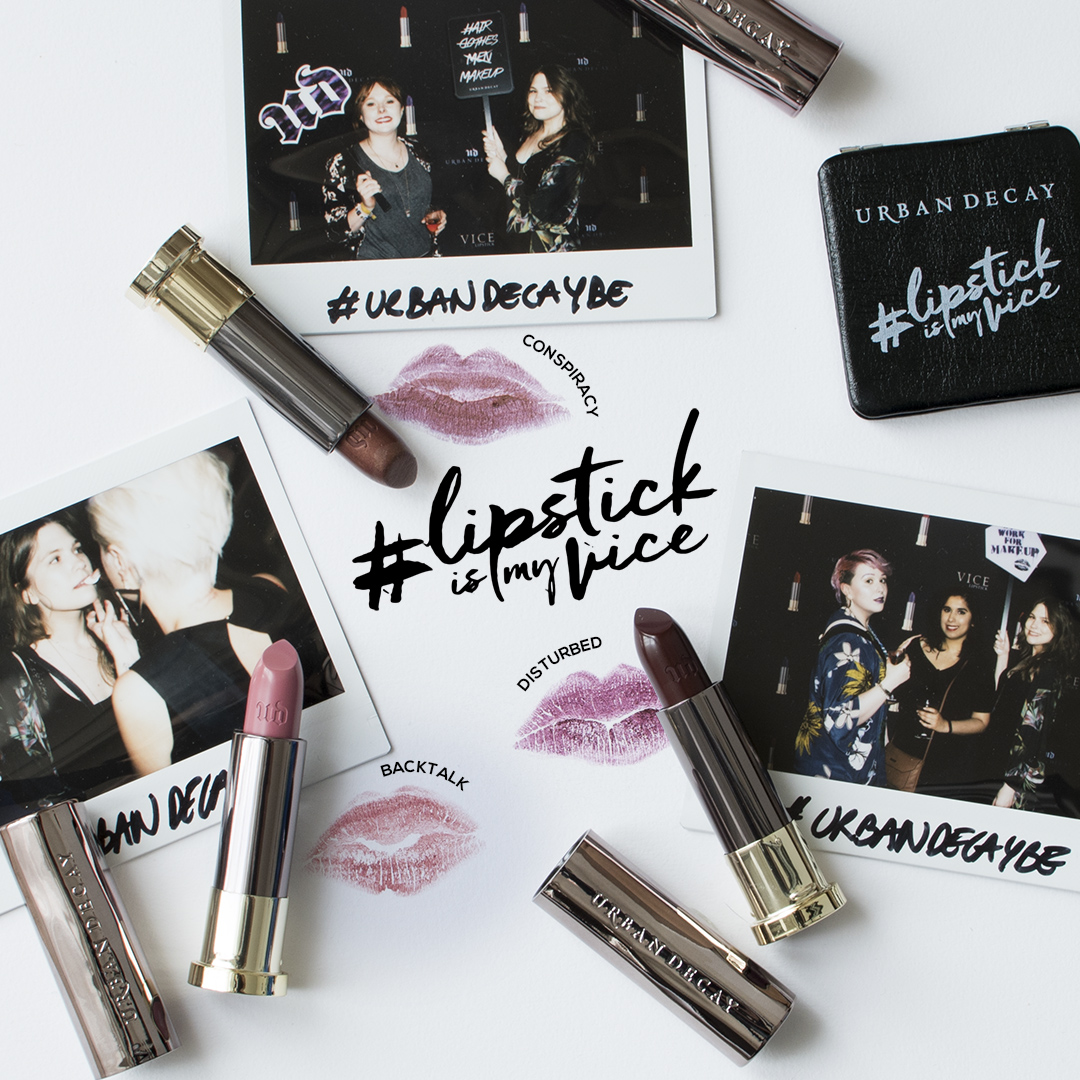 The other night, I went to Urban Decay's party in honor of their biggest launch yet: The Vice lipsticks. 100 shades, categorised by finish: Sheer shimmer, sheer, metallized, cream, comfort matte, and matte. I had never in my life seen so many lipsticks in one place before, and add to that girlfriends, cocktails and finger food: It was a night to remember! I received three lipsticks to try out: Conspiracy (metallized), Backtalk and Disturbed (comfort mattes). Let's take a look!
I have noticed that most bloggers are mostly reviewing the 10 same lipstick colours. Conspiracy, Backtalk, Naked, Menace, Big Bang, Disturbed, Rock Steady, 714, Firebird and Pandemonium: Aka Wende (chief creator of the brand)'s favourites, aka press samples. I don't know how aware you are of the Freebie Culture in blogging, but it's something to take into account when looking for an honest review. Fret not, I'm here for you: I promise the only thing influencing my opinion is my menstrual cycle. But let's talk lipsticks!
Urban Decay Vice Lipstick in Backtalk (Comfort Matte) ★★★★
★
So this is a shade that is totally new to me. I was pleasantly surprised to find this in my goodie bag considering I'd never touched a mauve nude with a ten foot pole before. Do I like this, do I not like this? Truth is, the brick red kimono I'm wearing in these shots is a very bad colour clash haha! I'm having a hard time matching this lip colour to my clothing and the rest of my make-up and frankly the first time I wore it was with a dark navy t-shirt and a cold pink blush and I startled every time I saw myself in the mirror because somehow it makes me look very stern?
Either way, onto the formula! I love how this Comfort Matte glides on the lip like a balm. Don't get intimidated by the lipstick pulling your lips as you swipe for the very first time: Once you've used it, the formula melts on your lips. Backtalk is very easy to apply and reapply. If it wasn't for the average longevity, I would give this 5 stars. I guess that's the price you pay for the balmy texture and non-drying formula.
Also read: Review: Urban Decay Naked Skin One & Done
Urban Decay Vice Lipstick in Conspiracy (Metallised) ★★★★★
Ahh, my favourite of the three! The recipe to Conspiracy? Combine a good 90s brown, a red wine stain and some gold shimmers into a bullet! I think, and hope, metallic lips are going to be the next "thing" in make-up. Conspiracy is comfortable like a creme, lasts about 3 hours (touch up after meals required) and is very easily reapplied. If you're looking to add a subtle, contemporary touch of late 90s/early 2000s, this will do the trick.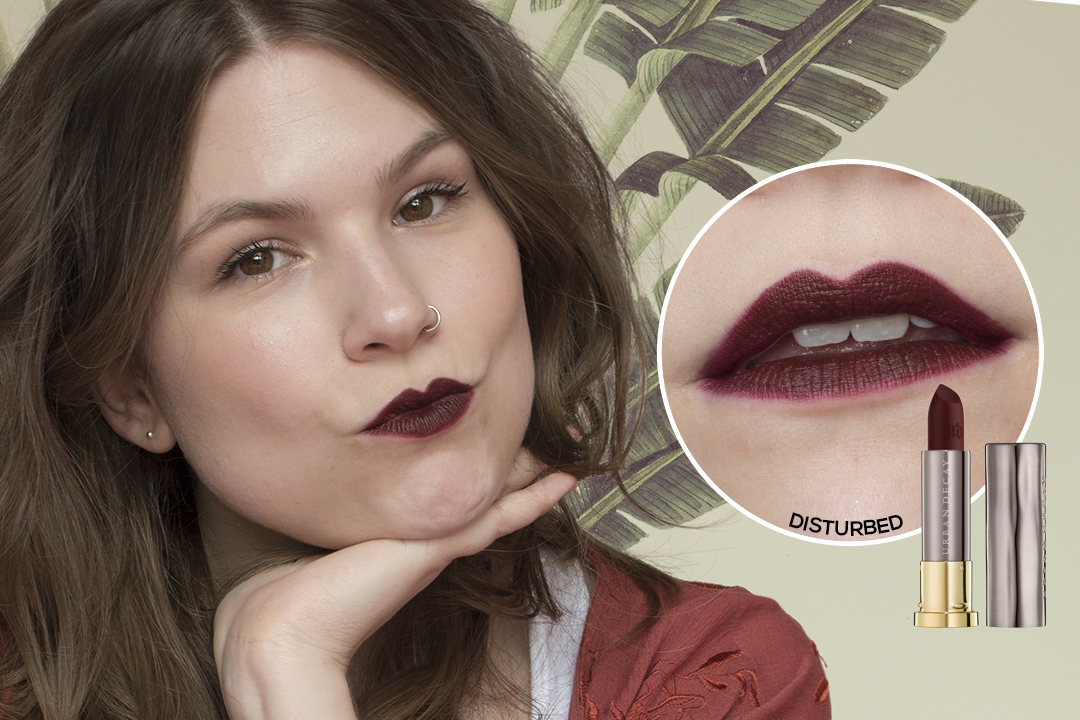 Urban Decay Vice Lipstick in Disturbed (Comfort Matte) ★★
★★★
Unfortunately, Disturbed didn't do it for me. It was very difficult to get this on somewhat evenly, but whatever I did, it remained patchy. Granted, my lips were a little chapped (props to Backtalk and Conspiracy for not accentuating that!) but what the eff… The colour transfers like crazy: It's not kiss proof, not meal proof, not even oops-I-ever-so-slightly-brushed-my-finger-against-my-lips proof. This needs a pencil (the Vice lipsticks are accompanied by 50 lip pencils, Urban Decay recommends Hex) and preferably a setting spray. I want to love it because the colour is gorgeous, but for me, it's just too much maintenance ☹️ Which is probably why you'll hardly ever see me rock a dark lipstick, haha. On a positive note: Disturbed does make your teeth look brighter ✨
So that's that! I also have mini samples of Big Bang (metallised), Firebird and Rock Steady (cream), and Pandemonium and 714 (mega matte) – if you'd like me to try those out as well, I'd be glad to! Just let me know in the comments!
See you next time folks!